Royals Clipped By Giants 3-2 Sunday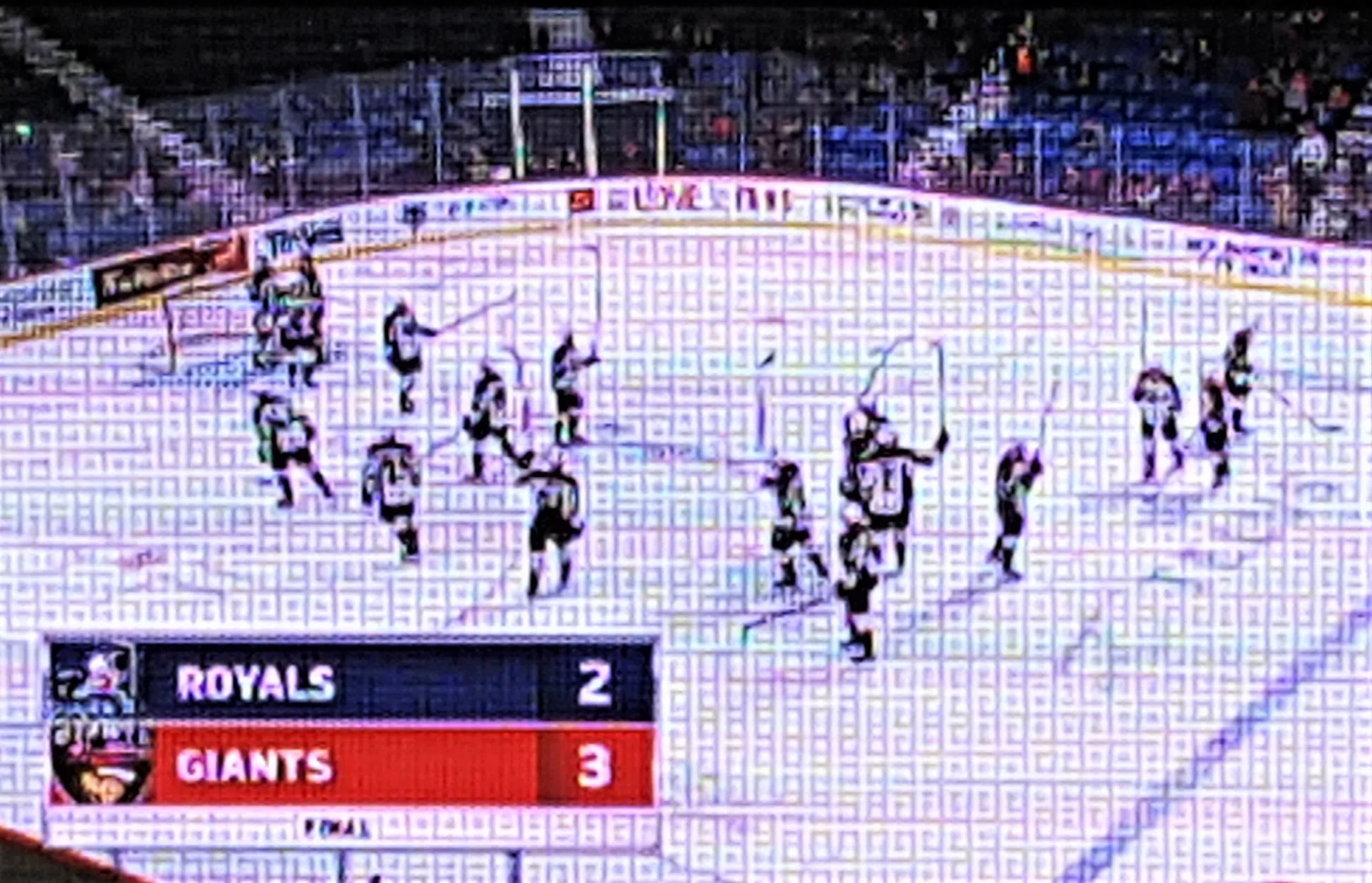 Jan 14, 2019
Marlon Martens
The Victoria Royals were clipped 3-2 by the Vancouver Giants in Langley Sunday afternoon.
The Giants twice held 2 goal leads, and twice the Royals clawed back to within one, but ultimately ran out of time.
Victoria goals were scored by Jameson Murray and Scott Walford on the power play,
Both goals were scored by defenseman, and for Murray it was his 3rd in 5 games.
Jameson Murray post game interview:
Royals Head Coach Dan Price post game:
David Tendeck earned the win stopping 19 of 21 shots, while rookie netminder Brock Gould suffered the defeat making 24 saves on 27 attempts.
The Royals were 1 for 5 on the power play, while shutting down all 3 Giant man advantages.
Vancouver got 3 point nights from Tristen Nielsen and Davis Koch, both with 1 goal and 2 assists, while Bowen Byram notched his 13th of the season to lead all WHL defenseman in goals.
The Giants are now 4-2-1-0 in the 7 game season series against the Royals.
Victoria has dropped back to back games after beginning the 3 in 3 weekend with a 7-4 win at home to Kamloops, before getting blanked 3-0 to Everett Saturday.
The Royals now fall 9 points back of the Giants for top spot in the BC Division.
Up next Victoria readies themselves for another 3 in 3 next weekend, beginning with a home date against the Moose Jaw Warriors on Friday.
– Marlon Martens
Notes:
One Goal Games: Since January 19th of last season, including playoffs, 11 of Victoria's last 17 games against Vancouver have been decided by one goal. In those 11 contests, the Royals have earned a 7-3-1-0 record.
Pesky Penalty Kill: For the second consecutive game the Royals' did not allow a powerplay goal against. Since January 1, the team has gone 20/21=95.2% on the penalty kill.
Sundays vs. Vancouver: Since the beginning of the 2015-16 season, the Royals have faced off against the Giants on a Sunday eight times. In those games the team holds a record 5-3-0-0.
Bantam Teammates: Tonight's game featured five players who were teammates prior to their time in the WHL. In 2014-15, Royals' defencemen Scott Walford and Mitchell Prowse played with Giants' defender Seth Bafaro on the Okanagan Hockey Academy White Prep Team of the CSSHL. Meanwhile, Victoria forward Carson Miller and Vancouver defenceman Kaleb Bulych were teammates on the Yorkton Terriers Bantam AA Team for two seasons in the SBAAHL (2013-15).
Back to the Barn: The Victoria Royals return home on Friday, January 18th to battle the Moose Jaw Warriors at 7:05 p.m. Tickets can be purchased in person at the Select Your Tickets box office, over the phone by calling 250-220-7777, or online at www.selectyourtickets.com.
TEXT SCORING SUMMARY
Victoria Royals 2 at Vancouver Giants 3 – Status: Final
Sunday, January 13, 2019 – Langley Events Centre – Langley, BC
Victoria 0 1 1 – 2
Vancouver 1 1 1 – 3
1st Period-
1, Vancouver, Byram 13 (Koch, Nielsen), 9:34.
Penalties-Patrician Van (boarding), 4:18; Hardy Van (roughing), 8:55; Martynov Vic (high sticking), 9:19.
2nd Period-
2, Vancouver, Nielsen 6 (Koch), 12:25.
3, Victoria, Murray 3 (Smith, Jerome), 14:12.
Penalties-Fizer Vic (delay of game), 1:26.
3rd Period-
4, Vancouver, Koch 13 (Nielsen, Joseph), 13:12.
5, Victoria, Walford 5 (Oliver, McDonald), 16:59 (PP).
Penalties-McDonald Vic (cross checking), 1:05; Byram Van (hooking), 1:23; Plouffe Van (cross checking), 1:44; Kannok Leipert Van (tripping), 16:10.
Shots on Goal-
Victoria 5-9-7-21.
Vancouver 11-7-9-27.
Power Play Opportunities-
Victoria 1 / 5;
Vancouver 0 / 3.
Goalies-
Victoria, Gould 5-5-0-0 (27 shots-24 saves).
Vancouver, Tendeck 14-9-1-0 (21 shots-19 saves).
A-2,788
Referees-Trevor Nolan (51), Nick Swaine (35).
Linesmen-Chris Anninos, Tim Plamondon (113).