Royals Snipe Rebels 3-2 in Shoot Out Saturday
Jan 06, 2019
Marlon Martens

The Victoria Royals edged the Red Deer Rebels 3-2 in a shoot out Saturday night, wrapping up their 6 game in 9 night Central Division road winning 4 of 6, including their last 2 after beating Edmonton 3-2 one night earlier.
Trailing 1-0 after 20 minutes, Royals Jameson Murray and Kaid Oliver scored short handed to take a 2-1 lead to the third.
Brett Davis scored the equalizer just :19 seconds into the third to force overtime.
Igor Martynov and Kody McDonald struck in the 5 round shoot out for the win.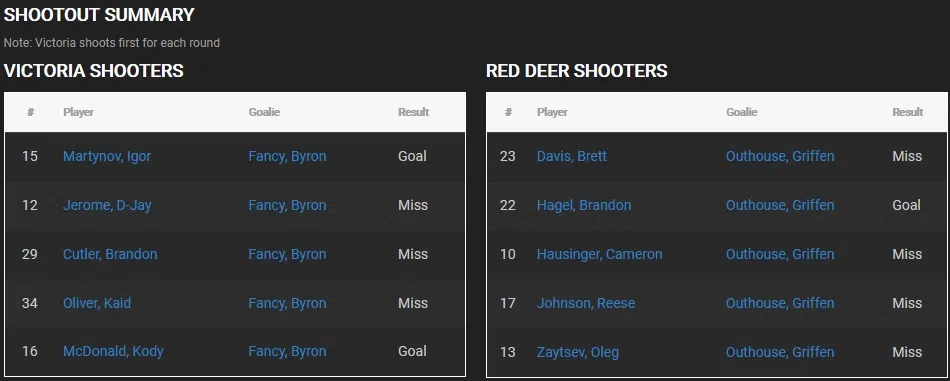 Griffen Outhouse made 32 saves through overtime, and then stopped 4 of 5 Red Deer shooters.
Byron Fancy stopped 34 of 36 for the Rebels in the defeat.
Royals Head Coach Dan Price:
Neither club scored on their power plays.
Royals newcomer McDonald also won his decision in a scrap with Cameron Hausinger.
Victoria returns home to entertain Kamloops Wednesday and Friday.
– Marlon Martens
Royally Noted:
Road Trip Recap: The Royals concluded their season long, six-game in nine days, road trip with a record of 4-2-0-0. During their trip, Victoria travelled over 3,900 km and made stops in Lethbridge, Medicine Hat, Cranbrook, Calgary, Edmonton and Red Deer.
Shorthanded: With his tally tonight, Royals' forward Kaid Oliver scored his third shorthanded goal of the season. His goal also marked the seventh time this season that Victoria has scored while a man down. The Royals' seven shorthanded goals are tied for the third most in the WHL.
Coming Home: Since the 2013-14 season, the Royals have posted an 9-3-1-0 record in the last contest of a road trip of five or more games.
Career Milestone: In tonight's contest, Royals' defenceman Ralph Jarratt played in his 250th career WHL regular season game. This was Jarratt's first game since December 11th vs. the Portland Winterhawks. In his career, he has recorded 66 points (12g-44a).
Former Rebels: Victoria forwards Brandon Cutler and D-Jay Jerome played against their former team as members of the Royals for the first time tonight. Cutler, who tallied 14 points (7g-7a) in 106 games for the Rebels, was acquired by the Royals this past off-season. Jerome, who joined the club last season, from Prince Albert, played in 23 games for the Rebels in 2016-17 where he registered eight points (5g-3a).
Familiar Faces: Rebels' forwards Jeff de Wit and Dallon Melin both used to be members of the Royals. Last season, de Wit played in 21 regular-season games for Victoria where he recorded 14 points (8g-6a). He was acquired by the Royals, prior to last year's trade deadline, from the Kootenay ICE. Melin was selected by Victoria in the second round, 32nd overall, in the 2017 WHL Bantam Draft. He was traded to Red Deer in the deal that saw Brandon Cutler join Victoria.
Back to the Island: Victoria will return home from their longest road trip of the season to face the Kamloops Blazers on Wednesday, January 9th and Friday, January 11th. The Royals will also host the Western Conference leading Everett Silvertips on Saturday, January 12th. Puck drop for all three games is at 7:05 p.m. Tickets can be purchased in person at the Select Your Tickets box office, over the phone by calling 250-220-7777, or online at www.selectyourtickets.com.
TEXT SCORING SUMMARY
Victoria Royals 3 (SO) at Red Deer Rebels 2 – Status: End of Game SO
Saturday, January 5, 2019 – Enmax Centrium – Red Deer, AB
Victoria 0 2 0 0 – 3
Red Deer 1 0 1 0 – 2
1st Period-
1, Red Deer, Zaytsev 7 (Hagel, Sass), 14:13.
Penalties-Kustra Vic (elbowing), 4:42; Kustra Vic (cross checking), 8:53; Sakowich Rd (interference), 12:07; Hagel Rd (hooking), 14:32; McDonald Vic (roughing, roughing), 19:55; Hagel Rd (roughing), 19:55.
2nd Period-
2, Victoria, Murray 1   7:12. 3, Victoria, Oliver 18 (Fizer), 9:56 (SH).
Penalties-Sass Rd (slashing), 4:08; Davis Rd (tripping), 4:53; McDonald Vic (major-fighting), 7:30; Hausinger Rd (major-fighting), 7:30; Walford Vic (interference), 9:18.
3rd Period-
4, Red Deer, Davis 12 (Sass), 0:19.
Penalties-Hagel Rd (tripping), 10:50; Jerome Vic (unsportsmanlike cnd.), 12:14; Tarzwell Rd (hooking), 12:14.
OT Period-
No Scoring.
Penalties-No Penalties
Shootout –
Victoria 2 (Martynov G, Jerome NG, Cutler NG, Oliver NG, McDonald G),
Red Deer 1 (Davis NG, Hagel G, Hausinger NG, Johnson NG, Zaytsev NG).
Shots on Goal-
Victoria 14-13-8-1-1-37.
Red Deer 14-6-9-5-0-34.
Power Play Opportunities-
Victoria 0 / 5;
Red Deer 0 / 4.
Goalies-
Victoria, Outhouse 15-11-1-0 (34 shots-32 saves).
Red Deer, Fancy 2-4-0-1 (36 shots-34 saves).
A-4,404
Referees-Nick Panter (70), Brett Roeland (12).
Linesmen-Ethan Cronkhite (96), Jason Nedinis (33).