Royals Double By Hitmen 6-3 New Years Day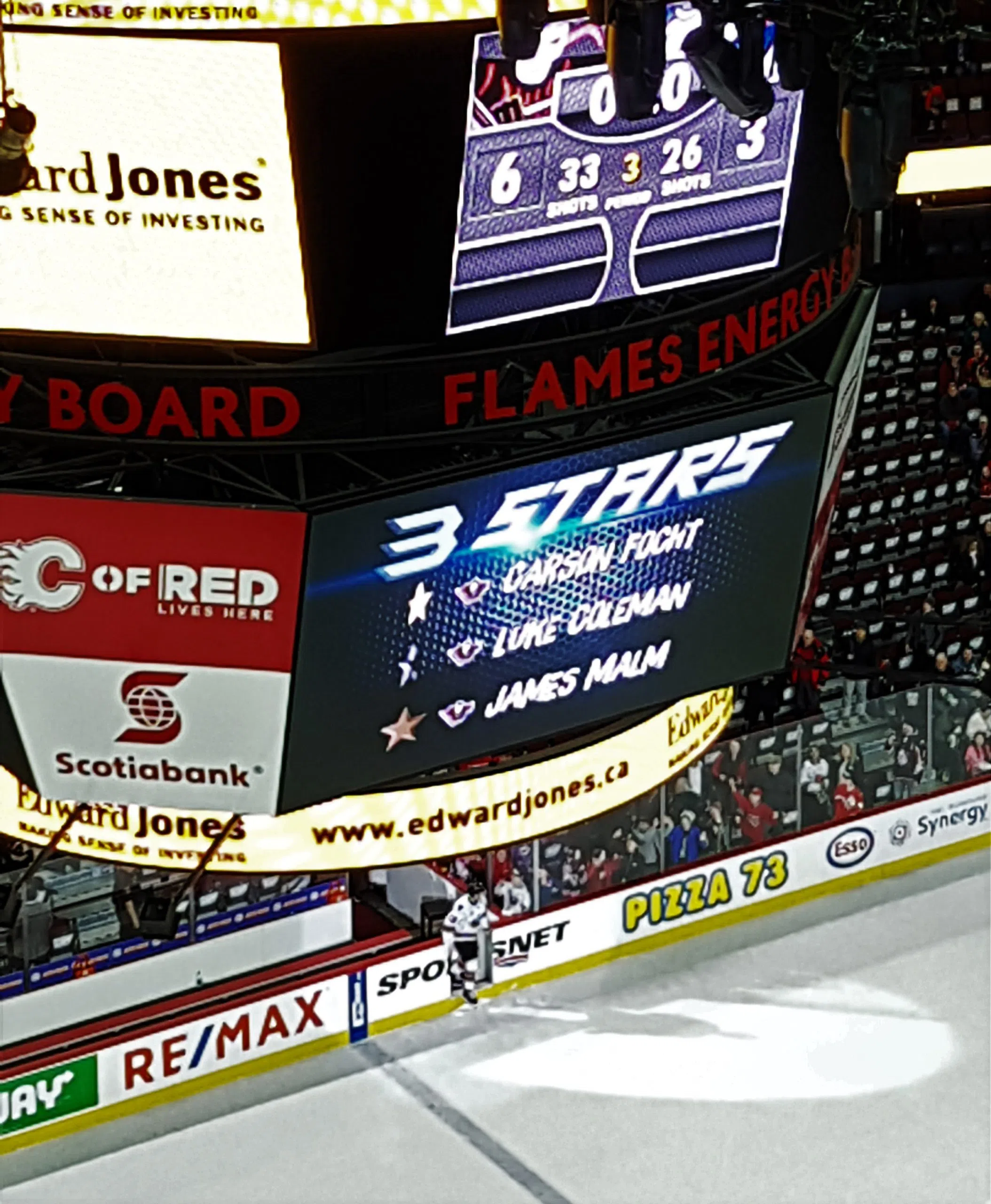 Jan 02, 2019
Marlon Martens

The visiting Victoria Royals were doubled 6-3 by the Calgary Hitmen on New Years Day.
Calgary scored 3 times on the power play in the middle frame to open up a 5-1 lead. Victoria clawed back, bringing the game to 5-3, but the Hitmen added an empty net for their 2nd straight win.
The Royals were playing their 4th game in 5 nights, with the later two being less than 24 hours apart.
Royals Assistant Coach Doug Bodger Post Game Interview:

Victoria got goals from Kaid Oliver, Dante Hannoun and Brandon Cutler.
Royals Tarun Fizer was stopped on a penalty shot, and hit 3 posts. He added an assist.
Hitmen forward Carson Focht netted a pair of goals with James Malm, Mark Kastelic, Luke Coleman and Kaden Elder adding singles.
Riley Stotts and Vladislav Yeryomenko both chipped in a pair of assists.
Victoria netminer Griffen Outhouse was chased from the nets after allowing 5 goals on 13 shots, while Brock Gould stopped all 19 he face in relief.
17 year old Jack McNaughton earned the win with 23 saves in his 12th straight start for Calgary.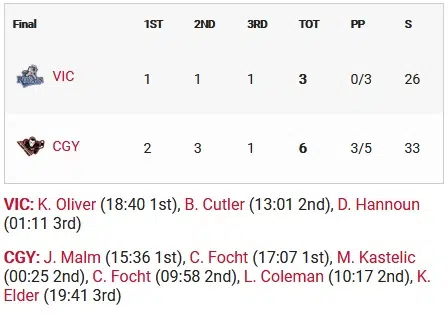 The Royals were missing 6 players, 5 due to injury.
The Hitmen were 3 for 5 on the power play, while the Royals went 0 for 3.
Victoria is now 2-2 on their 6 game in 9 night Central Divison road swing. They'll be in Edmonton Friday and Red Deer Saturday to close out the trip.
Marlon Martens
Royally Noted:
Fourth Man: With his goal in this afternoon's contest against the Hitmen, Royals' forward Dante Hannoun has tied Jack Walker for fourth all-time in franchise scoring. In his career, Hannoun has registered 248 points (97g-151a).
Penalty Shot: In tonight's game, Royals' forward Tarun Fizer was stopped on a penalty shot by Calgary goaltender Jack McNaughton. Previously, there had only been two penalty shots in Royals' games this season, both of which were stopped.
A World Away: Royals' forward Igor Martynov and Hitmen defenceman Vladislav Yeryomenko were teammates on Team Belarus, who finished second at the recent Division 1A World Junior Championships held in Fussen, Germany.
Road Trip: Following tonight's contest, the club only has two games remaining in their season long six-game road trip. Over the course of the trip, the Royals will travel over 3,900 km with stops in Lethbridge, Medicine Hat, Cranbrook, Calgary, Edmonton and Red Deer before they return home.
Coming Up: This Friday night the Royals will continue their road trip with a contest against the Edmonton Oil Kings from Rogers Palce. Puck drop is at 6:00 p.m. Pacific Standard Time.
Back at the Barn: The Royals will return home from their longest road trip of the season to face the Kamloops Blazers on Wednesday, January 9th. Tickets can be purchased in person at the Select Your Tickets box office, over the phone by calling 250-220-7777, or online at www.selectyourtickets.com.
TEXT BOX SCORE
Victoria Royals 3 at Calgary Hitmen 6 – Status: Final
Tuesday, January 1, 2019 – Scotiabank Saddledome – Calgary, AB
Victoria 1 1 1 – 3
Calgary 2 3 1 – 6
1st Period-
1, Calgary, Malm 16 (Yeryomenko, Stotts), 15:36.
2, Calgary, Focht 8 (Coleman, Prokop), 17:07.
3, Victoria, Oliver 17   18:40.
Penalties-Prokop Cgy (tripping), 0:37; Yoder Vic (checking from behind), 3:43; Krebs Cgy (slashing), 14:46; Oliver Vic (delay of game), 19:48.
2nd Period-
4, Calgary, Kastelic 27 (Kryski, Zamula), 0:25 (PP).
5, Calgary, Focht 9 (Malm, Kryski), 9:58 (PP).
6, Calgary, Coleman 9 (Stotts, Yeryomenko), 10:17 (PP).
7, Victoria, Cutler 8 (Martynov), 13:01.
Penalties-Toder Cgy (tripping), 6:02; Martynov Vic (hooking), 8:43; Oliver Vic (delay of game), 8:51.
3rd Period-
8, Victoria, Hannoun 19 (Fizer), 1:11.
9, Calgary, Elder 15   19:41 (EN).
Penalties-Krebs Cgy (slashing), 2:20; Yoder Vic (tripping), 15:02.
Shots on Goal-
Victoria 10-9-7-26.
Calgary 6-14-13-33.
Power Play Opportunities-
Victoria 0 / 3;
Calgary 3 / 5.
Goalies-
Victoria, Outhouse 13-11-1-0 (13 shots-8 saves); Gould 5-4-0-0 (19 shots-19 saves).
Calgary, McNaughton 11-9-1-1 (26 shots-23 saves).
A-8,036
Referees-Brayden Arcand (71), Kyle Kowalski (15).
Linesmen-Marcus Gerow (139), Przemek Iwaniec (140).