Hannoun 4 Goal Night Leads Royals Past 'Canes 6-2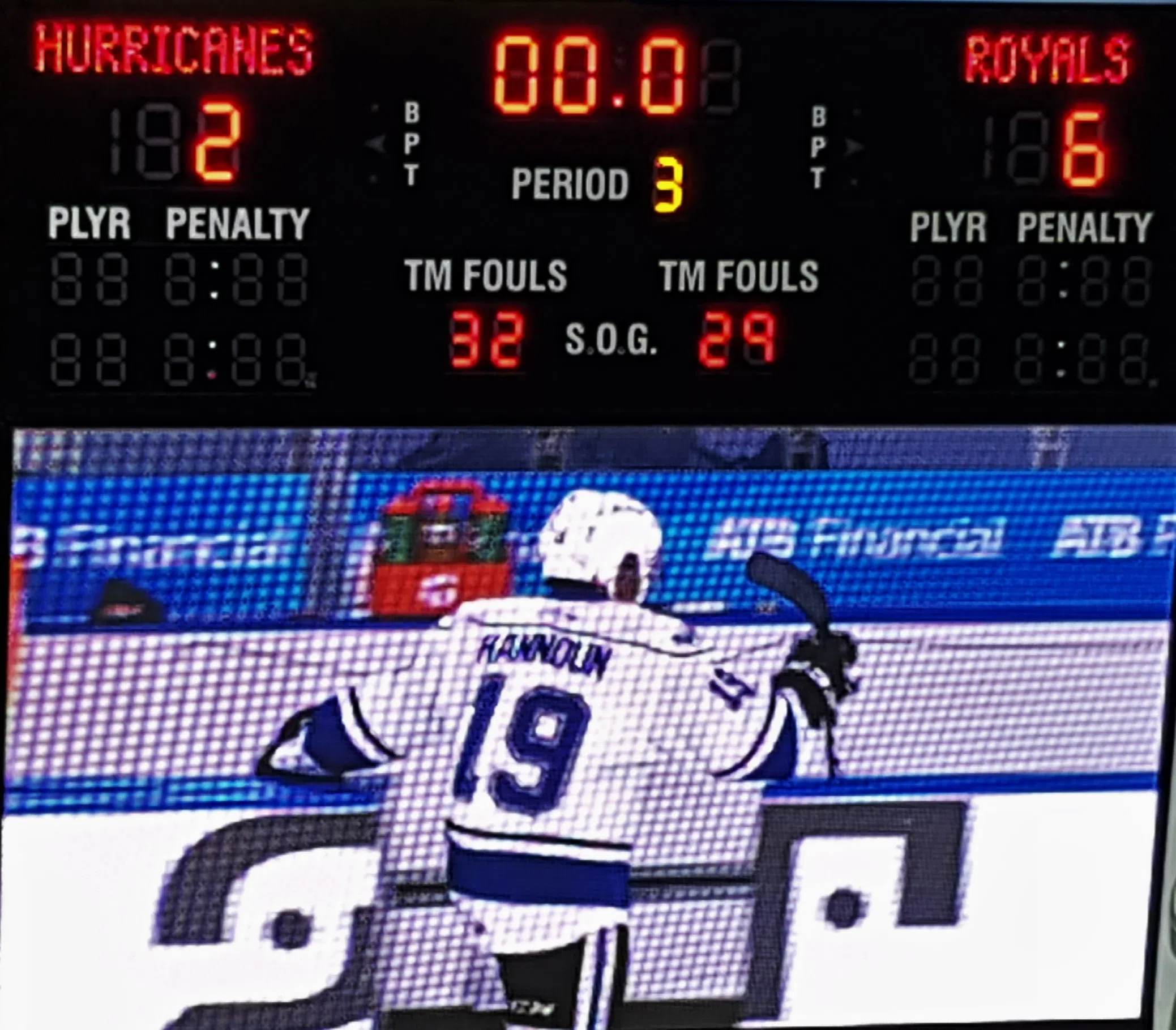 Dec 29, 2018
Marlon Martens

Dante Hannoun scored 4 goals and added an assist to pace the visiting Victoria Royals past the Lethbridge Hurricanes 6-2 Friday night, kicking off a 6 game in 9 night Central Division road trip.
Victoria led 2-1 after 20 minutes, and 5-2 after 40 before scoring the only goal of the third.
The Royals won the special teams game, with the power play going 2 for 4 after only scoring once with the man advantage over their last 7 outings. Their penalty kill was a perfect 3 for 3 versus a potent Hurricanes man advantage.
Rookie netminder Brock Gould made 30 saves, including all 14 in the third for Victoria's 3rd straight win, and 4 in their last 5. The Canes had their 3 game win streak snapped.
Carl Tetachuk played the first two periods, allowing 5 goals on 22 shots, while Reece Klassen went 6 for 7 in relief.
The line of Hannoun (4g 1a), Tarun Fizer (1g 2a), and Igor Martynov (1g 1a) combined for 10 points.

Martynov returned to the line up after missing 7 games while at the World Junior tournament in Germany with Belarus.
Hannoun is the reigning WHL player of the week, heading into the Christmas break.
The Royals pull into a tie for 2nd in the BC Division with the Rockets, but have 5 games in hand.
Victoria was missing Phillip Schultz, who's playing for Denmark at the World Junior tournament, along with Assistant Coach JF Best, and Khore Elliot who's the Athletic Therapist for Team Canada. Still injured are a pair of defenseman, 20 year old Ralph Jarratt and 19 year old Jake Kustra.
Three stars of the game were:
1) Royals – #19 Dante Hannoun (4 goals, 1 assist)
2) Royals – #18 Tarun Fizer (1 goal, 2 assists)
3) 'Canes – #15 Jordy Bellerive (1 goal, 1 assist)
Up next Victoria visits Medicine Hat Saturday night at 6:30pm.
Marlon Martens
Royally noted:
Dante's Inferno: Tonight, Royals' forward Dante Hannoun tied the franchise record for goals in a regular season game with four. This is the first time Hannoun reached this mark, and only the fourth time in franchise history that it has been accomplished (Tyler Soy 2016-17, Brandon Magee 2012-13, Kevin Sundher 2011-12).
A Worldly Return: Royals' forward Igor Martynov recorded two points (1g-1a) in his return from the Belarusian National Junior Team, where he competed in Division 1A of the World Junior Under-20 Championships. Martynov recorded three points (1g-2a) in five games during the tournament to help Belarus finish second behind Germany.
Road Trip: With tonight's contest against the Hurricanes, the Royals kicked off their longest road trip of the season in which they play six games in nine days. The Royals will travel over approximately 3,900 km during their trip. During those nine days, the team will also play Medicine Hat, Kootenay, Calgary, Edmonton, and Red Deer before returning home.
Return from the Break: Tonight's win against the Hurricanes marked the first time since the Royals' inaugural season that they have not played the Prince George Cougars at home following the Christmas break.
Hot Streaks: The Royals' currently have two players who are on multi-game point streaks. Scott Walford (1g-7a) extended his point streak to five contests. Meanwhile, Jameson Murray has recorded an assist in three consecutive games.
Back at the Barn: The Royals will return home from their longest road trip of the season to face the Kamloops Blazers on Wednesday, January 9th. Tickets can be purchased in person at the Select Your Tickets box office, over the phone by calling 250-220-7777, or online at www.selectyourtickets.com.
TEXT SCORING SUMMARY
Victoria Royals 6 at Lethbridge Hurricanes 2 – Status: Final
Friday, December 28, 2018 – Enmax Centre – Lethbridge, AB
Victoria 2 3 1 – 6
Lethbridge 1 1 0 – 2
1st Period-
1, Victoria, Hannoun 14 (Martynov, Fizer), 3:08.
2, Victoria, Martynov 4 (Oliver, Fizer), 9:16 (PP).
3, Lethbridge, Bellerive 17 (Henry, Leschyshyn), 12:11.
Penalties-Wilson Let (charging), 8:46; Prefontaine Let (checking to the head), 15:25.
2nd Period-
4, Victoria, Hannoun 15 (Murray), 0:55.
5, Victoria, Fizer 9 (Hannoun, Walford), 8:59 (PP).
6, Victoria, Hannoun 16   13:05.
7, Lethbridge, Addison 5 (Bellerive, Leschyshyn), 16:18.
Penalties-Walford Vic (hooking), 3:15; Cox Let (high sticking), 5:50; Cozens Let (tripping), 8:41.
3rd Period-
8, Victoria, Hannoun 17   15:35.
Penalties-Prowse Vic (high sticking), 2:40; Jerome Vic (major-fighting), 9:00; Shepard Let (major-fighting), 9:00; Aquilon Vic (slashing), 16:48.
Shots on Goal-
Victoria 13-9-7-29.
Lethbridge 9-9-14-32.
Power Play Opportunities-
Victoria 2 / 4;
Lethbridge 0 / 3.
Goalies-
Victoria, Gould 4-4-0-0 (32 shots-30 saves).
Lethbridge, Tetachuk 7-5-0-0 (22 shots-17 saves); Klassen 11-4-4-2 (7 shots-6 saves).
A-4,286
Referees-Tyler Jensen (49), Fraser Lawrence (10).
Linesmen-David Gilfoy (124), Aidan Henderson (78).