Royals Drop Giants 4-2 Saturday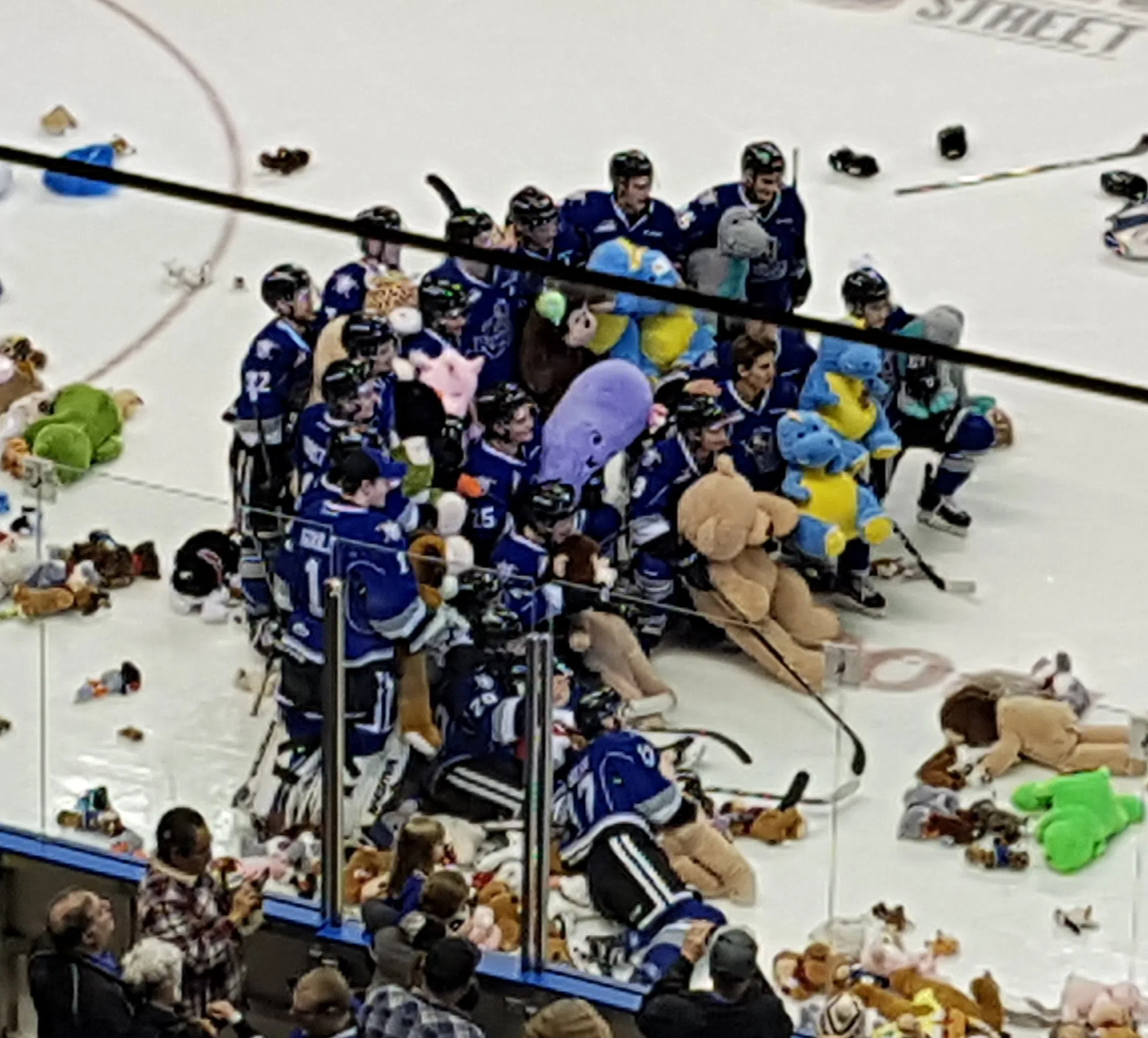 Dec 16, 2018
Marlon Martens
D-Jay Jerome scored twice including the winner as the Victoria Royals came from behind to drop the visiting Vancouver Giants 4-2 Saturday night.
Jerome on netting the special goal:
Griffen Outhouse earned his franchise best 100th career win with 25 saves, as the Royals won back to back games for the first time since November 17th and 18th.
Outhouse on the win and his 100th:
David Tendeck took the loss stopping 20 of 23.
Jerome had scored the opening Teddy Bear toss goal early in the first before the Giants responded with a pair on goals by Owen Hardy and Tristen Nielsen to take a 2-1 lead to the 2nd period.
Head Coach Dan Price:

Ty Yoder fooled David Tendeck with a back hander for the only goal of the second, before Jerome converted on a pass from Dante Hannoun for the eventual winner in the third. Hannoun then notched his 13th of the season into an empty net for the insurance marker.
Vancouver lost their second straight on back to back nights, after winner 7 straight which moved them to the 6th ranking on the CHL Top 10.
Victoria got 2 assist nights from Brandon Cutler and Phillip Schultz who's now off to join Team Denmark at the World Junior Championships.
Vancouver's Dawson Holt assisted on a pair of goals.

In the season series, the Royals improve to 3-2-1-0.
For the Giants, it was just their 3rd regulation loss to a BC Division opponent in 15 games.
Victoria was 0 for 5 on the power play, while Vancouver went 1 for 4.
The Royals went 3-1 on their 4 game in 5 night homestand, and it was their final game before the Christmas break.
Victoria remains 3rd in BC Division, 1 back of Kelowna.
Up next a 6 game in 9 night Central Division road beginning Dec. 28th in Lethbridge.
Marlon Martens
Royally Noted:
Mr. Teddy Bear: In tonight's game against the Vancouver Giants, Royals' forward D-Jay Jerome scored the team's Teddy Bear Toss goal. The goal, which was tallied at the 4:50 mark of the first period, is the second fastest in team history behind Austin Carroll's goal in the 2013-14 game. Previously, the title of "Mr. Teddy Bear" had been held by Eric Florchuk (2017-18, 2016-17), Ethan Price (2015-16), Axel Blomqvist (2014-15), Austin Carroll (2013-14, 2012-13) and Zane Jones (2011-12).
Celebrating a Century: With his win tonight against the Vancouver Giants, Royals' goaltender Griffen Outhouse recorded his 100th career WHL regular season victory. The Likely, BC native became the 16th player in WHL history to reach this milestone. He is now tied for 14th all-time in wins with Ty Edmonds (Prince George) and Danny Lorenz (Seattle). The all-time leaders in career WHL regular season victories are Corey Hirsch and Tyson Sexsmith with 120.
Departed for Vancouver: After tonight, Royals' forward Phillip Schultz and assistant coach J.F. Best will travel to Vancouver to represent Denmark at this year's IIHF World Junior Championships. Best will serve as the Danish consultant in Performance Analysis, while Schultz, who is a product of Rodovre, Denmark, will be playing as a member of the national junior team.
Hot Streaks: The Royals' currently have four players who are on multi-game point streaks. Scott Walford (1g-6a), Brandon Cutler (2g-3a) and Phillip Schultz (1g-3a) have all registered points in four straight contests. Meanwhile, 16-year-old Ty Yoder has recorded a point in three consecutive games (1g-2a).
Coming Up: On December 28th, the Victoria Royals will return from their holiday break to battle the Lethbridge Hurricanes. This contest will be the first of six consecutive games on the road. After the matchup with the Hurricanes the Royals will travel to play the Medicine Hat Tigers, Kootenay Ice, Calgary Hitmen, Edmonton Oil Kings, and the Red Deer Rebels.
Back at the Barn: The Royals will return home from their longest road trip of the season to face the Kamloops Blazers on Wednesday, January 9th. Tickets can be purchased in person at the Select Your Tickets box office, over the phone by calling 250-220-7777, or online at www.selectyourtickets.com.
TEXT SCORING SUMMARY
Vancouver Giants 2 at Victoria Royals 4 – Status: End of Game
Saturday, December 15, 2018 – Save-On-Foods Memorial Arena – Victoria, BC
Vancouver 2 0 0 – 2
Victoria 1 1 2 – 4
1st Period-
1, Victoria, Jerome 13 (Cutler, Murray), 4:50.
2, Vancouver, Hardy 7 (Holt, Dmytriw), 9:22.
3, Vancouver, Nielsen 3 (Holt, Kannok Leipert), 17:29 (PP).
Penalties-Dmytriw Van (boarding), 10:58; Prowse Vic (hooking), 16:20.
2nd Period-
4, Victoria, Yoder 2 (Cutler, Walford), 15:20.
Penalties-Hardy Van (roughing), 3:45; Gulka Vic (roughing), 3:45; Doust Vic (slashing), 11:53; Hardy Van (boarding), 15:43.
3rd Period-
5, Victoria, Jerome 14 (Hannoun, Schultz), 8:46.
6, Victoria, Hannoun 13 (Schultz), 19:40 (EN).
Penalties-Kambeitz Vic (charging), 2:06; Nielsen Van (high sticking), 6:25; Walford Vic (checking to the head), 12:56; Byram Van (tripping), 17:38; Ettinger Van (roughing, 10-minute misconduct), 19:52; Bulych Van (roughing), 20:00; Hardy Van (roughing), 20:00; Holt Van (major-fighting), 20:00; Kannok Leipert Van (game-third man in), 20:00; Gulka Vic (roughing), 20:00; Lees Vic (roughing), 20:00; Sidaway Vic (major-fighting), 20:00.
Shots on Goal-
Vancouver 9-6-12-27.
Victoria 7-9-8-24.
Power Play Opportunities-
Vancouver 1 / 4;
Victoria 0 / 5.
Goalies-
Vancouver, Tendeck 11-6-1-0 (23 shots-20 saves).
Victoria, Outhouse 13-9-1-0 (27 shots-25 saves).
A-6,812
Referees-Duncan Brow (19), Trevor Nolan (51).
Linesmen-Cole Cooke (130), Liam Reid (112).