Royals Hunt Down Cougars 5-1 Friday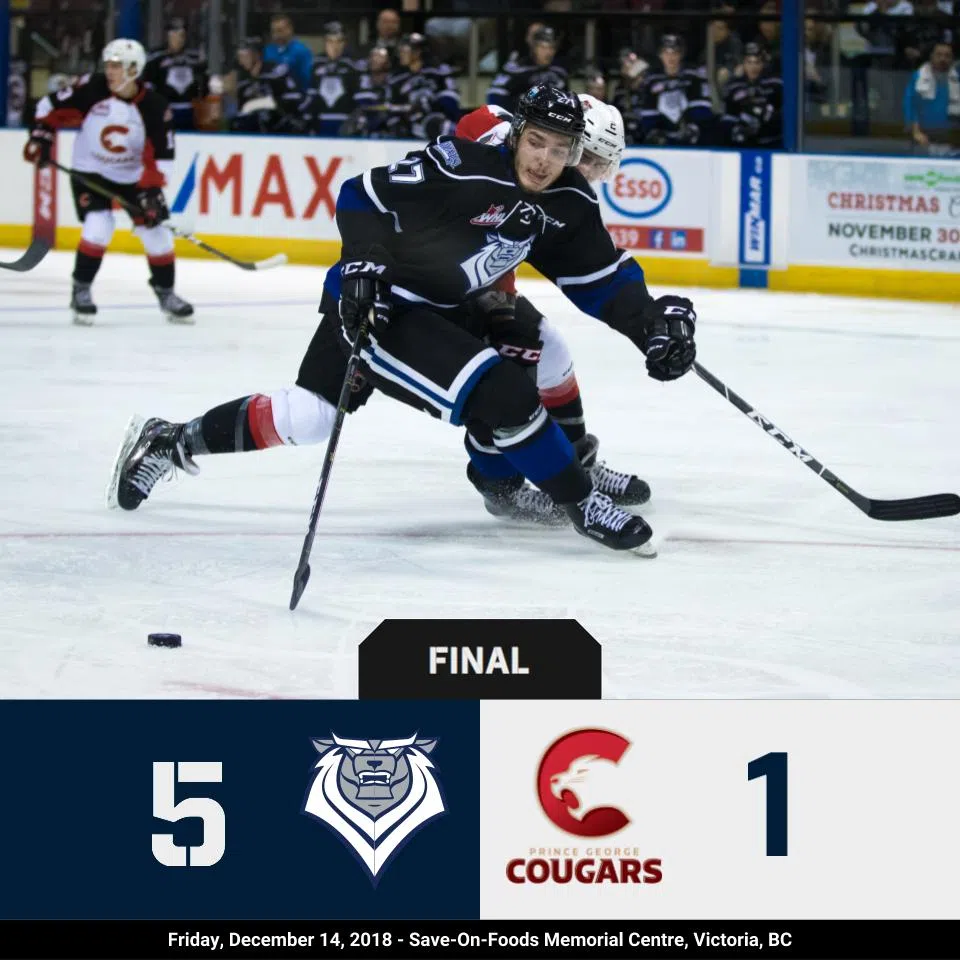 Dec 15, 2018
Marlon Martens

Brock Gould made 34 saves and the Victoria Royals got goals from five different skaters in a 5-1 victory over the visiting Prince George Cougars Friday.
Trailing 1-0 after 20 minutes on Rhett Rhinehardts point blast, the Royals scored a pair in the middle frame, and added 3 more in the third to get back into the win column.
Royals Head Coach Dan Price:
The Cougars were handed their 4th straight loss.
Dino Kambeitz and Tarun Fizer had a goal and assist each, with singles coming from Kaid Oliver who snapped a 9 game goal less drought, Brandon Cutler and Phillips Schultz. Dante Hannoun added a pair of assists.
Victoria turned the tables in the middle frame with goals coming 1:14 apart, the second of which on the power play after Austin Crossley took a roughing minor as Kambeitz scored.
The Royals then put some distance on the Cougars with another pair of goals just :37 seconds apart early in the third period.
Isaiah DiLaura allowed 5 goals on 34 shots in the defeat.
Gould earned his 3rd career win, and 2nd against Prince George:
Victoria went 1 for 5 on the power play, snapping a game game goal less drought with the man advantage. Prince George got all 4 of their power plays in the third, but were shut out.
The Royals now lead the season series 4-1.

Up next Victoria plays their final game before the Christmas break as they entertain the Vancouver Giants Saturday in the annual Teddy Bear Toss game at 7pm.
Marlon Martens
Royally Noted:
Streaking on Home Ice: With tonight's victory over Prince George, the Royals have now won six consecutive contests against the Cougars when playing at the Save-On-Foods Memorial Centre. While on this streak, the Royals have outscored their opponent by 26-10. This victory puts Victoria's record to 21-7-1-0 on home ice against the Cougars since they relocated from Chilliwack, BC in 2011-12.
Career Game 100: Tonight's contest against the Prince George Cougars was the 100th career regular season WHL game for Royals' forward Dino Kambeitz. The product of Parker, CO was originally drafted by the Royals in the fifth round, 90th overall, in the 2015 WHL Bantam Draft. With his goal and assist tonight, Kambeitz moves to 14 points (5g-9a) in 29 games this season.
Fiery Fizer: With his goal tonight, Royals' forward Tarun Fizer now has now collected a point in four straight games. Over this stint, Fizer has recorded seven points (5g-2a).
Up Next: The Royals play their final game before the holiday break tomorrow night at home against the Vancouver Giants at 7:05 pm in their annual Teddy Bear Toss, presented by The Co-Operators. Fans are encouraged to bring their new teddy bears or stuffed toys and throw them on the ice after the Royals score their first goal.  Tickets can be purchased in person at the Select Your Tickets box office, over the phone by calling 250-220-7777, or online at www.selectyourtickets.com.
TEXT SCORING SUMMARY
Prince George Cougars 1 at Victoria Royals 5 – Status: Final
Friday, December 14, 2018 – Save-On-Foods Memorial Arena – Victoria, BC
Prince George 1 0 0 – 1
Victoria 0 2 3 – 5
1st Period-
1, Prince George, Rhinehart 3 (Browne, Maser), 12:27.
Penalties-MacLean Pg (slashing), 2:53; MacLean Pg (unsportsmanlike cnd.), 15:34; Cutler Vic (unsportsmanlike cnd.), 15:34.
2nd Period-
2, Victoria, Kambeitz 5   14:25.
3, Victoria, Fizer 8 (Hannoun, Walford), 15:39 (PP).
Penalties-Perepeluk Pg (hooking), 11:36; Gulka Vic (misconduct – mouthguard), 12:59; Crossley Pg (roughing), 14:25.
3rd Period-
4, Victoria, Oliver 15 (Doust, Kambeitz), 1:18.
5, Victoria, Cutler 7 (Yoder), 1:55.
6, Victoria, Schultz 6 (Hannoun, Fizer), 8:23.
Penalties-Schultz Vic (interference), 6:02; Walford Vic (slashing), 14:20; Moberg Pg (interference), 15:14; Jerome Vic (slashing), 16:32; Jerome Vic (tripping), 19:35.
Shots on Goal-
Prince George 12-7-16-35.
Victoria 8-20-6-34.
Power Play Opportunities-
Prince George 0 / 4;
Victoria 1 / 4.
Goalies-
Prince George, DiLaura 4-6-0-1 (34 shots-29 saves).
Victoria, Gould 3-4-0-0 (35 shots-34 saves).
A-3,904
Referees-Brett Iverson (24), Ryan Benbow (62).
Linesmen-Riley Friesen (76), Jordan Browne (90).