Fizer Hat Trick Paces Royals Past Winterhawks 7-4 Tuesday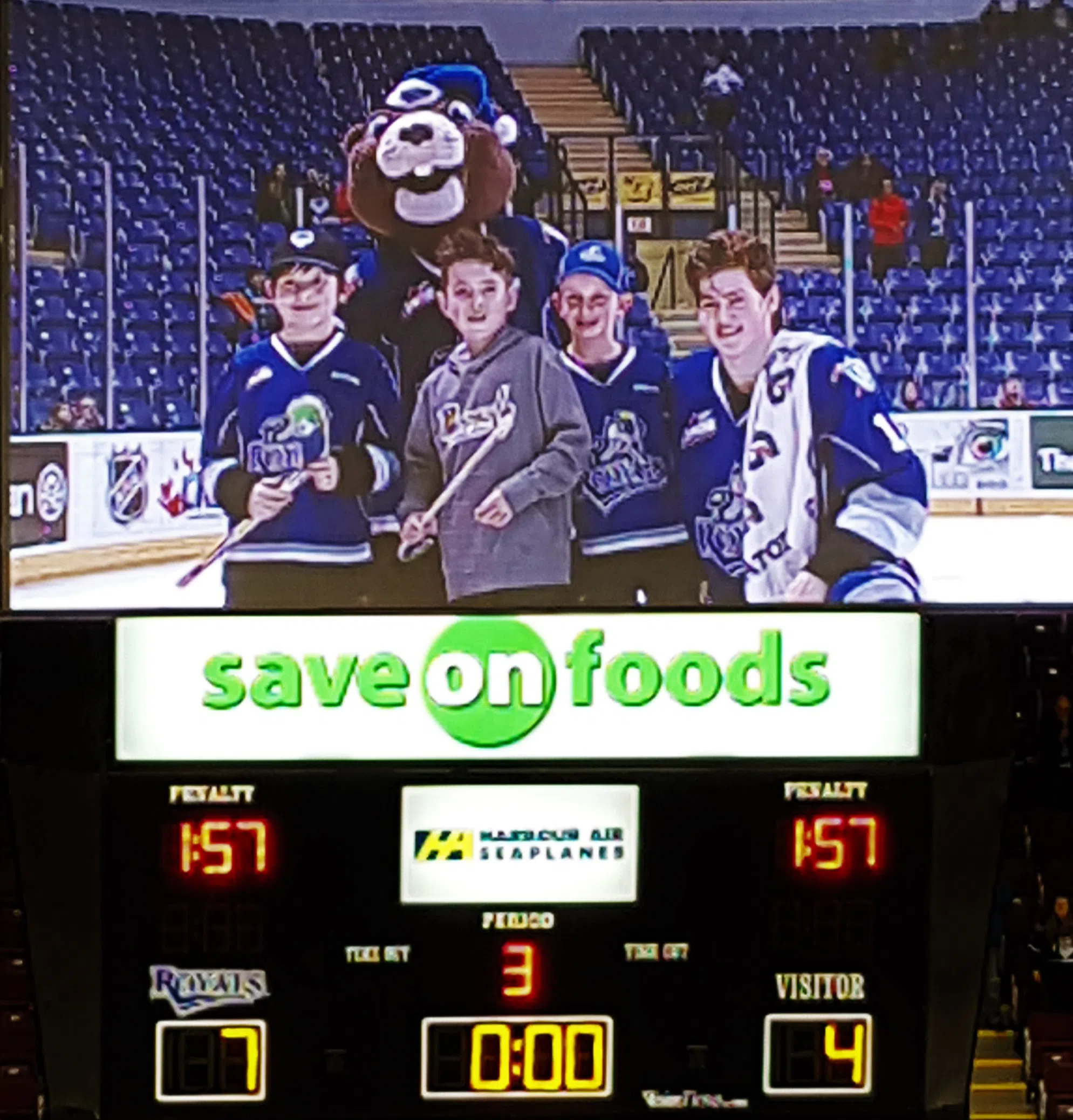 Dec 12, 2018
Marlon Martens
                                  Above: Tarun Fizer's Hat Trick Earned Him #1 Star Honours

The Victoria Royals overcame a 2-0 deficit with 5 straight goals en route to a 7-4 victory over the visiting Portland Winterhawks Tuesday night.
Tarun Fizer led the way with a hat trick, Dante Hannoun had 2 goals and 2 assists, and defenseman Scott Walford assisted on 4 goals. The Royals got singles from Brandon Cutler and Ralph Jarratt. Mitchell Prowse added a pair of helpers.
In the contest, Scott Walford goes off for four assists. First defenceman with a 4 helper night since Joe Hicketts, November 15, 2014 at Vancouver. https://t.co/b4eBHhKlxE

— Geoffrey Brandow (@GeoffreyBrandow) December 12, 2018
#WHL POR/VIC: @victoriaroyals Tarun Fizer recorded 2 goals all of last season, he picks up 3 in this one bringing season total to 7, five of those goals have all come this month. At 17 yrs, 9 mos., 10 days becomes youngest to have a hat trick since Dante Hannoun (17-7-2).

— Geoffrey Brandow (@GeoffreyBrandow) December 12, 2018
Fizer's post game media scrum:
Griffen Outhouse made 35 saves to help his club snap a 4 game winless drought.
Royals Head Coach Post Game Media Scrum:
Shane Farkas took the loss allowing 7 goals on 34 attempts, as his club saw their 4 game winning streak come to an end.
Both clubs went 0 for 4 on the power play.
The Royals regain sole possession of 3rd place in the BC Division.

Victoria kicked off a 4 game in 5 night homestand.
The Winterhawks were without Vegas Golden Knights first rounder, Cody Glass who is at The Q! Centre, for Team Canada's World Junior Selection Camp.
The Royals had their full complement of overagers in the line up for only the 8th time this year. They've won 7 of those games.
Portland still leads the season series 2-1, but will meet again in Victoria Wednesday night.
Marlon Martens
Royally Noted:
Back at the Barn: The Victoria Royals improved their record to 9-2-0-0 in the first contest back after a road trip of five or more games. This dates back to the 2013-14 season. In those contests, the Royals have outscored their opponents 57-28.
Offensive Explosion: The Royals had 10 players record at least one point. They were led offensively by forward Dante Hannoun (2g-2a) and Scott Walford (0g-4a), who both registered four points. Meanwhile, Tarun Fizer scored his first career WHL hat-trick.
In Search of a Century: Royals' goaltender Griffen Outhouse is one win away from 100 career WHL victories. Outhouse, who already is the franchise leader in wins, has posted a record of 99-52-11-3 with 2.72 goals against average (GAA) and a 0.919 save percentage (SV%) in his career.
Daunting Dante: Dante Hannoun extended his point streak against the Portland Winterhawks to nine consecutive games. In this span, the Delta, BC native has recorded 17 points (4g-13a) for an average of 1.89 points per contest. In his career against the Winterhawks, Hannoun has scored 21 points (5g-16a) in 15 games.
Absent Star Power: After tonight's loss, when playing without captain Cody Glass, the Portland Winterhawks move to 1-4-0-0. In these contests, they have been outscored by a margin of 27-16.
Up Next: The Royals finish their two-game set with the Portland Winterhawks tomorrow.  Tickets can be purchased in person at the Select Your Tickets box office, over the phone by calling 250-220-7777, or online at www.selectyourtickets.com.
TEXT BOX SCORE:
Portland Winterhawks 4 at Victoria Royals 7 – Status: Final
Tuesday, December 11, 2018 – Save-On-Foods Memorial Arena – Victoria, BC
Portland 2 1 1 – 4
Victoria 3 3 1 – 7
1st Period-
1, Portland, Hanas 4   4:04.
2, Portland, Blichfeld 27 (Hughes), 10:51.
3, Victoria, Fizer 5 (Hannoun, Murray), 11:18.
4, Victoria, Cutler 6 (Kambeitz, Lees), 17:49.
5, Victoria, Jarratt 3 (Gulka, Oliver), 19:56.
Penalties-Quigley Por (major-fighting), 20:00; Sidaway Vic (roughing, major-fighting), 20:00.
2nd Period-
6, Victoria, Hannoun 11 (Prowse, Walford), 3:07.
7, Victoria, Fizer 6 (Walford, Hannoun), 3:47.
8, Portland, Mannek 8 (Dureau), 15:49.
9, Victoria, Fizer 7 (Walford, Prowse), 17:48.
Penalties-Jarratt Vic (slashing), 4:43; Oliver Vic (cross checking), 10:00; Gricius Por (interference), 11:07; Quigley Por (tripping), 12:26; Freadrich Por (roughing), 19:28.
3rd Period-
10, Victoria, Hannoun 12 (Schultz, Walford), 5:09.
11, Portland, Hanas 5 (Jarvis, Ludvig), 9:51.
Penalties-Blichfeld Por (checking to the head), 0:18; Doust Vic (tripping), 6:27; Gricius Por (roughing), 9:51; Jarratt Vic (roughing), 9:51; Freadrich Por (10-minute misconduct), 19:57; Gricius Por (roughing), 19:57; Kambeitz Vic (roughing), 19:57; Murray Vic (10-minute misconduct), 19:57.
Shots on Goal-
Portland 13-16-10-39.
Victoria 17-12-8-37.
Power Play Opportunities-
Portland 0 / 4;
Victoria 0 / 4.
Goalies-
Portland, Farkas 17-9-0-2 (34 shots-27 saves); Giannuzzi 1-2-0-0 (3 shots-3 saves).
Victoria, Outhouse 12-8-1-0 (39 shots-35 saves); Gould 2-4-0-0 (0 shots-0 saves).
A-3,206
Referees-Adam Griffiths (36), Jeff Ingram (82).
Linesmen-Cole Cooke (130), Riley Friesen (76).