Outhouse #1 Star in 2-1 Overtime Loss To Giants Saturday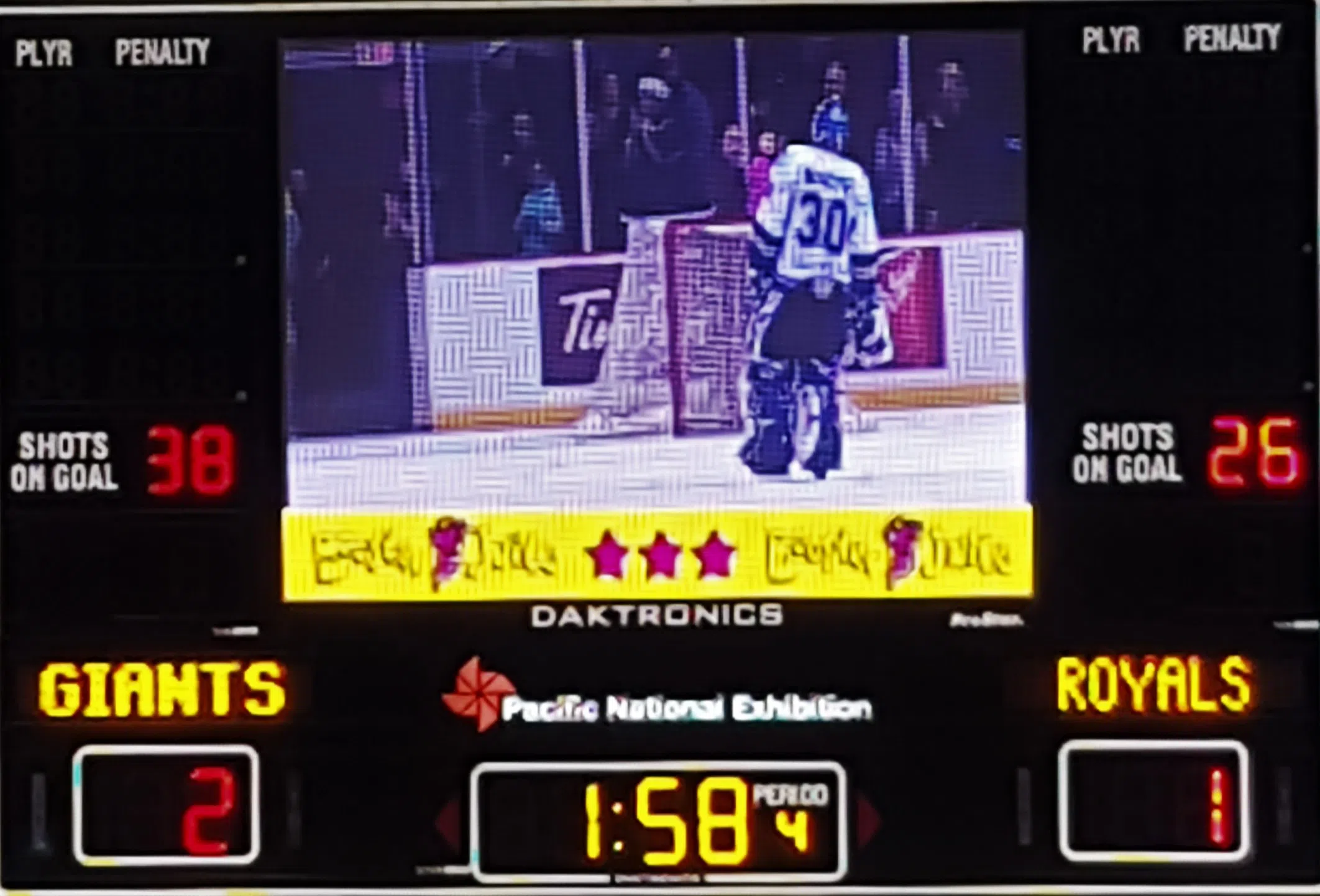 Dec 09, 2018
Marlon Martens

Griffen Outhouse made 36 saves and was the games first star, as the Victoria Royals picked up a point in a 2-1 overtime loss against the Vancouver Giants at the Pacific Coliseum Saturday night.
Tarun Fizer had given the Royals a 1-0 lead with just over 6 minutes to go in the third period, but with just over a minute left, Bowen Byram scored the Teddy Bear toss goal and forced overtime.
Teddy's fly in Vancouver. Byram ties game 1-1 with 1:19 left in third. @victoriaroyals @WHLGiants pic.twitter.com/PCFAtBuCw9

— Marlon Martens (@VoiceVicRoyals) December 9, 2018
Captain Jared Dmytriw notched the winner on a breakaway, to extend the Giants winning streak to 7 games. The former Royal ended with a goal and assist.

Post game interview with Head Coach Dan Price:
Giants netminder and Arizona draft pick David Tendeck made 25 saves for the victory.
Victoria wrapped up their 5 game in 8 night BC Division road trip earning 3 of a possible 10 points.
The Royals locked things down defensively in their last 2 games, shutting out the opposition in 4 of 6 periods.
After returning to the line up one night earlier overage defenseman Ralph Jarratt was a late scratch.
Up next Victoria returns home to play 4 games in 5 nights, beginning with a pair against the Portland Winterhawks Tuesday and Wednesday.
Marlon Martens
Royally Noted:
Career Game 150: In tonight's contest, Royals' forward Kaid Oliver played in his 150th career WHL regular season game. Oliver was drafted 57th overall in the 2015 WHL Bantam Draft and was signed in January 2016. Oliver has posted 54 points (22g-32a) in his career.
Overtime: Tonight, against the Giants, the Royals competed in their third overtime game of the season, and second against Vancouver. Victoria are 2-1 in games where extra time is needed so far this season, as they beat Prince George in a shootout on their home opener, and defeated the Giants in overtime on October 13th.
Long Road Home: Since the 2013-14 campaign, the Royals have posted a record of 7-3-1-0 in the last game of a road trip lasting five or more games. In those contests, the Royals have outscored their opponents 33-15.
Home Sweet Home: The Royals return home on Tuesday, December 11th and Wednesday, December 12th against the Portland Winterhawks for a two-game set. Tickets can be purchased in person at the Select Your Tickets box office, over the phone by calling 250-220-7777, or online at www.selectyourtickets.com.
TEXT SCORING SUMMARY
Victoria Royals 1 at Vancouver Giants 2 (OT) – Status: Final OT
Saturday, December 8, 2018 – Pacific Coliseum – Vancouver, BC
Victoria 0 0 1 0 – 1
Vancouver 0 0 1 1 – 2
1st Period- No Scoring.
Penalties-served by Nielsen Van (too many men), 13:24.
2nd Period- No Scoring.
Penalties-Walford Vic (roughing), 9:38; Ettinger Van (roughing), 9:38; Gulka Vic (tripping), 11:10; Prowse Vic (cross checking), 19:02.
3rd Period-
1, Victoria, Fizer 4 (Sidaway, Lees), 13:29.
2, Vancouver, Byram 9 (Dmytriw, Koch), 18:41.
Penalties-No Penalties
OT Period-
3, Vancouver, Dmytriw 7 (Bulych), 3:02.
Penalties-No Penalties
Shots on Goal-
Victoria 14-5-6-1-26.
Vancouver 4-17-16-1-38.
Power Play Opportunities-
Victoria 0 / 1;
Vancouver 0 / 2.
Goalies-
Victoria, Outhouse 11-8-1-0 (38 shots-36 saves).
Vancouver, Tendeck 11-5-1-0 (26 shots-25 saves).
A-9,385
Referees-Kevin Bennett (29), Bryan Bourdon (45).
Linesmen-Bradley Parker (129), Tim Plamondon (113).