Royals Blanked By Rockets 2-0 Friday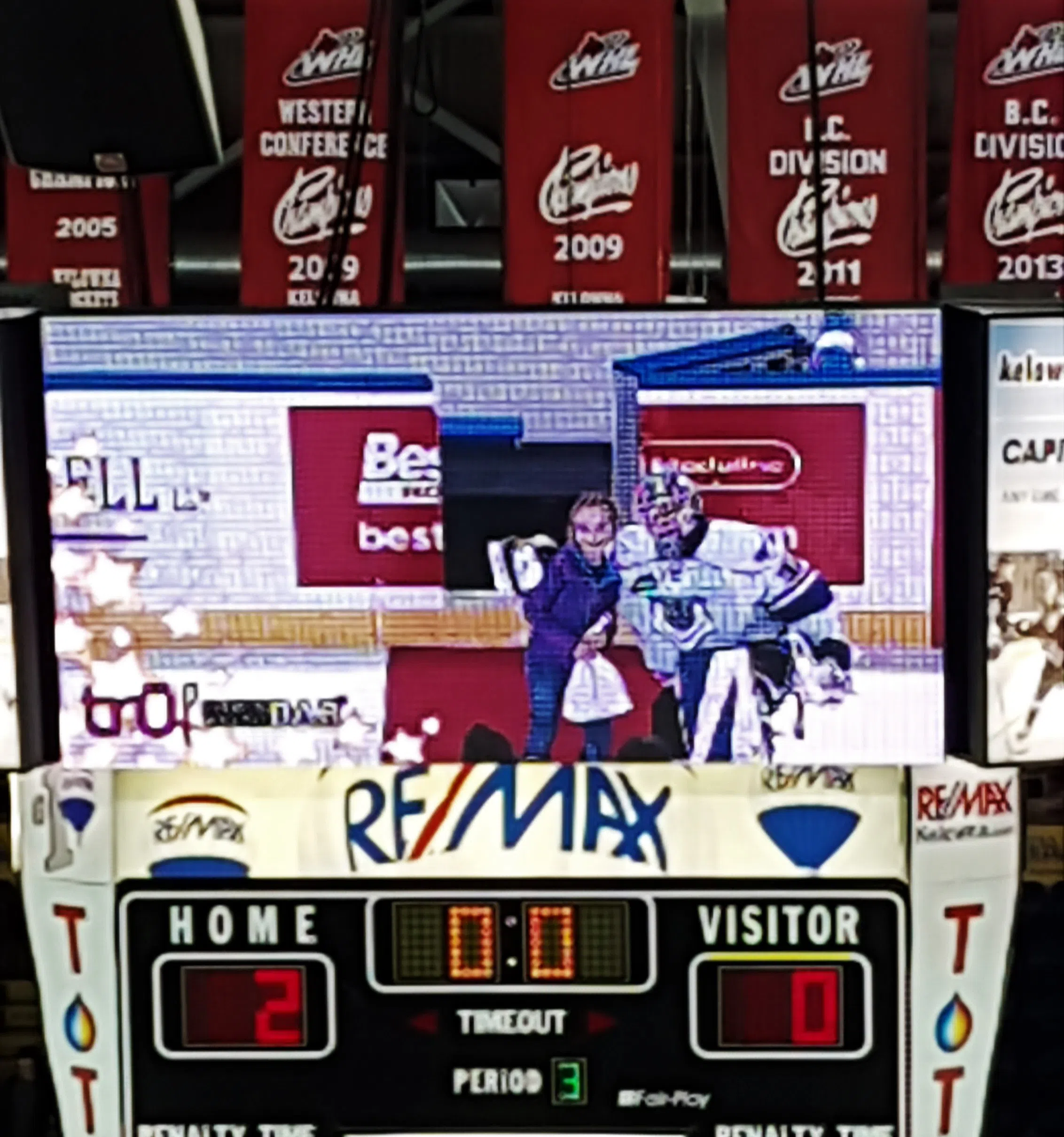 Dec 08, 2018
Marlon Martens

The Victoria Royals were blanked 2-0 on the road against the Kelowna Rockets Friday night.
Rockets forward Lane Zablocki banked in the eventual game winner of a Royal defender mid way through the third, and Nolan Foote added an empty net power play goal for added insurance.
Roman Basran earned the shutout with only 16 saves, as Victoria was doubled in shots 32-16 overall.
Royals Head Coach Dan Price Post Game Interview:
Griffen Outhouse made his return to the nets after a 3 game absence due to injury. He was named 2nd star making 30 of 31 stops.
Another overager, defenseman Ralph Jarratt also made his return to the line up after missing the last 11 games.
The Royals were 0 for 3 on the power play, while the Rockets went 1 for 3.
Roman Basran turned aside all 16 shots he faced, helping the Rockets secure a 2-0 victory! 🧱🚀 #CityofRockets
📰➡️ https://t.co/N2iT0a9Bkr
🎥➡️ https://t.co/jtNOBpEMSU pic.twitter.com/KkfAbtSMCY

— Kelowna Rockets (@Kelowna_Rockets) December 8, 2018
Kelowna now leads the season series 4-1, and move 4 points ahead of Victoria – who remain tied for 3rd in the division with Kamloops (idle).

The Royals have 6 games in hand on the Rockets.
Victoria wraps up their 5 game in 8 night BC Division road trip Saturday night in Vancouver at the Coliseum at 7pm.
Marlon Martens
Royally Noted:
Returning Royals: In tonight's contest against the Rockets, Royals' goaltender Griffen Outhouse and defenceman Ralph Jarratt made their return to the lineup. In 19 games this season, Outhouse has posted a goals against average of 2.45 and a save percentage of 0.923, along with 11 wins. Meanwhile, Jarratt, who has dressed in 12 games this campaign, has scored eight points (2g-6a) on the year.
Island Connection: Rockets' forward Ted Brennan was born in Victoria, BC. Brennan is a product of the Saanich Braves of the Vancouver Island Junior Hockey League (VIJHL) where he recorded 28 points (13g-15a) in 34 games played (2016-17).
Former Royal: Kelowna Rockets' forward Lane Zablocki scored the game-winner tonight against his former team. Zablocki dressed in 25 contests for the Royals last season and recorded six points (1g-5a).
Coming Up: Victoria caps off their five-game road trip tomorrow night against the Vancouver Giants. Puck drop is at 7:00 p.m. at the Pacific Coliseum.
Home Sweet Home: The Royals return home on Tuesday, December 11th and Wednesday, December 12th against the Portland Winterhawks for a two-game set. Tickets can be purchased in person at the Select Your Tickets box office, over the phone by calling 250-220-7777, or online at www.selectyourtickets.com.
TEXT SCORING SUMMARY
Victoria Royals 0 at Kelowna Rockets 2 – Status: Final
Friday, December 7, 2018 – Prospera Place – Kelowna, BC
Victoria 0 0 0 – 0
Kelowna 0 0 2 – 2
1st Period-
No Scoring.
Penalties-Walford Vic (hooking), 2:31; Gally Kel (high sticking), 16:25; Gally Kel (tripping), 18:55.
2nd Period-
No Scoring.
Penalties-Cutler Vic (hooking), 13:20.
3rd Period-
1, Kelowna, Zablocki 3 (Topping, Thomson), 8:31.
2, Kelowna, Foote 18   19:00 (PP EN).
Penalties-Steffler Kel (slashing), 11:52; Jarratt Vic (tripping), 18:32.
Shots on Goal-
Victoria 6-6-4-16.
Kelowna 9-15-8-32.
Power Play Opportunities-
Victoria 0 / 3;
Kelowna 1 / 3.
Goalies-
Victoria, Outhouse 11-8-0-0 (31 shots-30 saves).
Kelowna, Basran 10-9-1-0 (16 shots-16 saves).
A-4,822
Referees-Stephen Campbell (14), Mike Langin (67).
Linesmen-Dustin Minty (86), Cody Wanner (56).