Royals Tripped Up By Rockets 3-1 Friday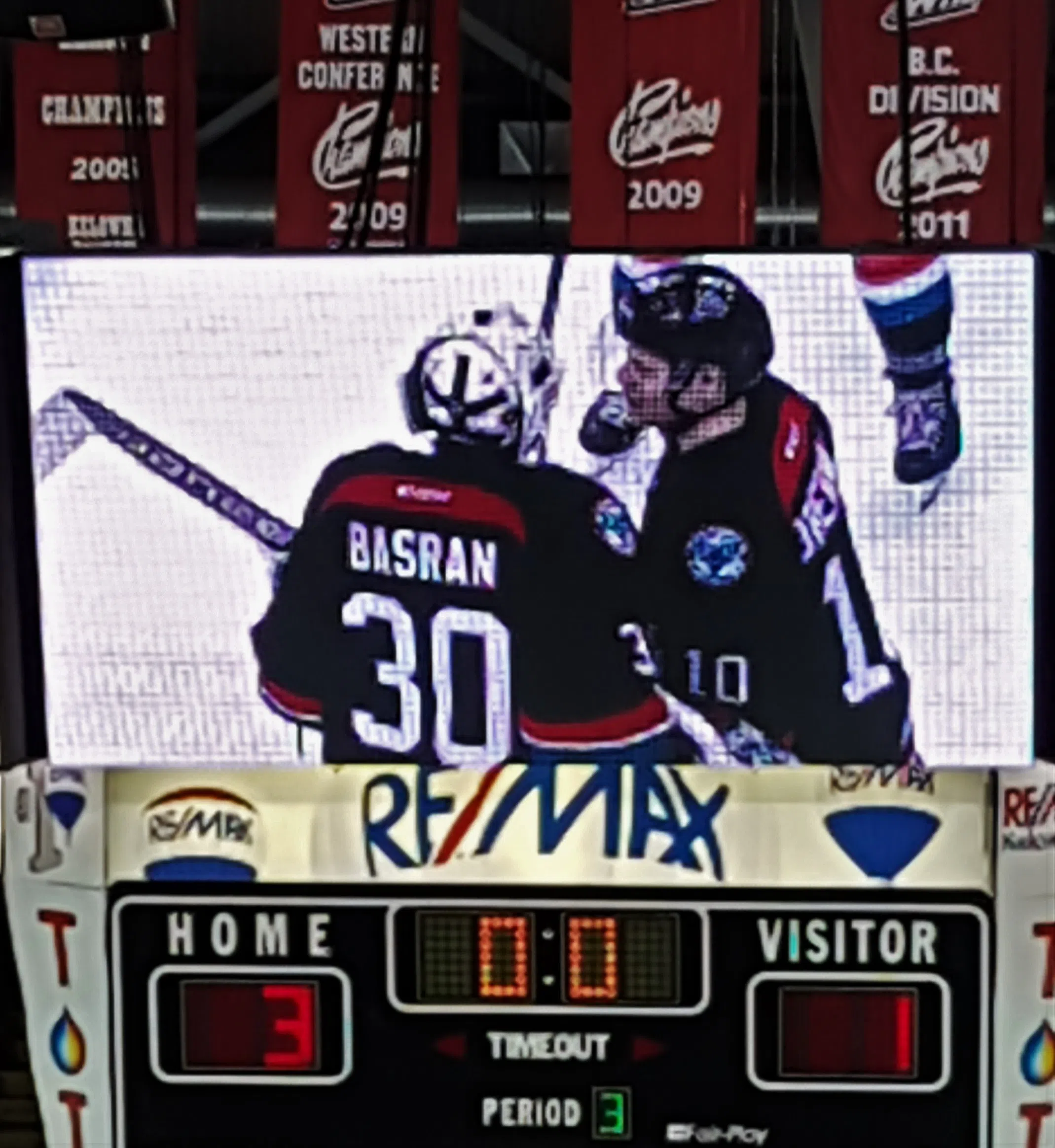 Nov 24, 2018
Marlon Martens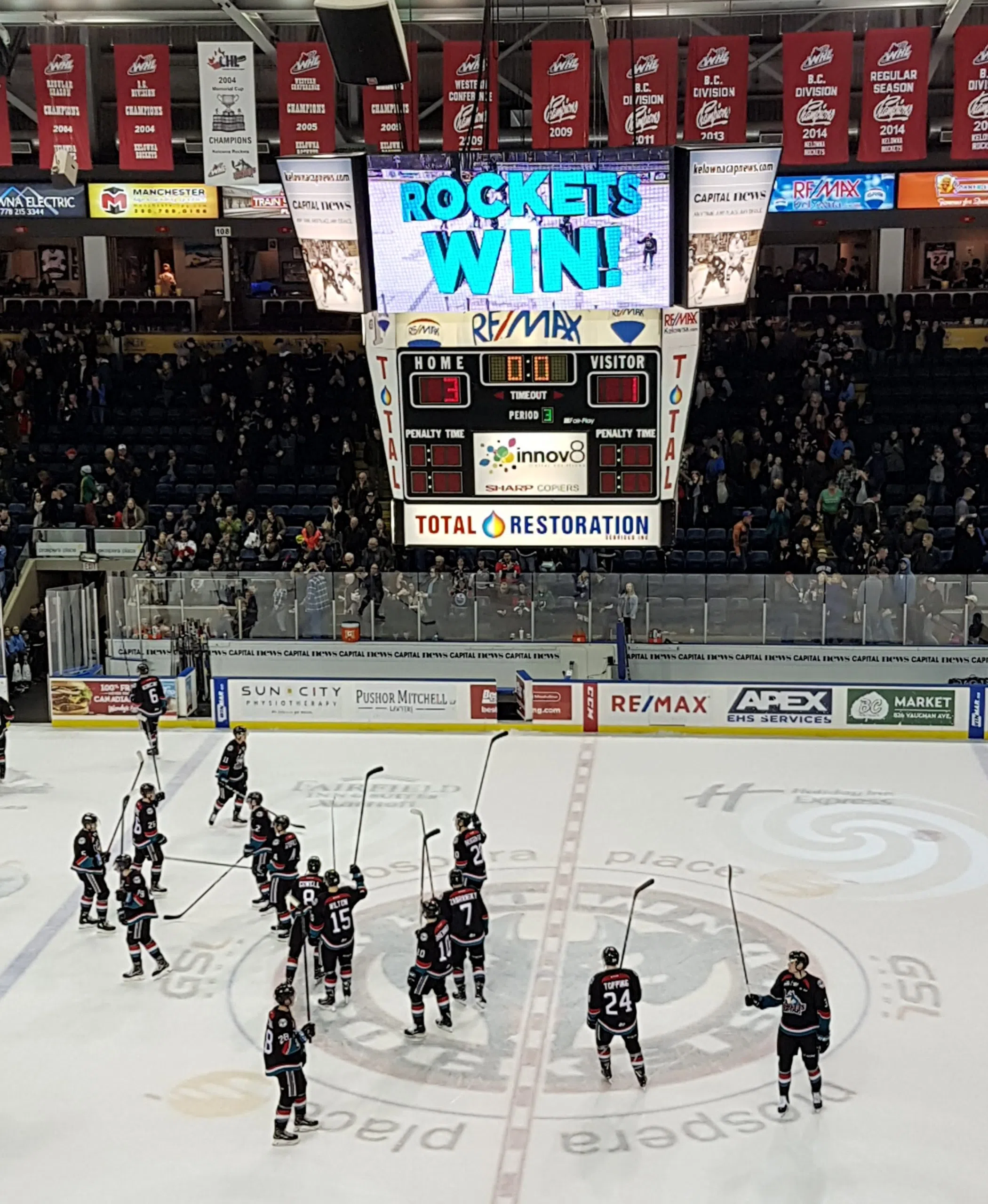 The visiting Victoria Royals had their two game win streak snapped after falling 3-1 to the Kelowna Rockets Friday night.
Kelowna got goals from Kyle Topping during a 5 on 3 in the middle frame, Liam Kindree who struck on a 3 on 1 rush in the third, and Lief Mattson into an empty net.
Victoria's leading scorer Kaid Oliver got the Royals to 2-1 with the goaltender pulled.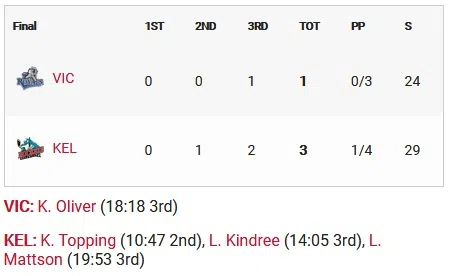 The Rockets run their win streak to 3 games, and lead the season series 3-1.
Roman Basran stopped 23 of 24 for his 3rd straight win, while Griffen Outhouse allowed just 2 goals on 28 attempts.
Outhouse set the franchise record for most games played with 166 passing Coleman Vollrath. He's two away from 100 career wins.
Ecstatic for my main man @outhouse40 setting a new @victoriaroyals record for games played tonight! One of the hardest working and most professional guys I've played with – you deserve it! Glad you were the one rewrite the records set by @Gorzy58 and I! Keep em' coming! 💪🏼💪🏼💪🏼

— Coleman Vollrath (@Colemanvollrath) November 24, 2018
Dante Hannoun hit a post as he returned to the line up after missing 3 in a row due to injury. The club is still without the services of overage defenseman Ralph Jarratt.
The Rockets were 1 for 4 on the power play, while the Royals went 0 for 3. Neither club had a chance with the man advantage in the final frame.
Up next Victoria visits Vancouver Saturday night.
Marlon Martens
Notes:
Record Setter: Tonight, Royals' goaltender Griffen Outhouse played in his 166th career regular season game. Outhouse passed former Victoria netminder Coleman Vollrath (165 GP) for the most games played in franchise history.
Battle of BC: The Royals come out of tonight's game against the Kelowna Rockets with an 8-4-0-0 record against BC Division teams this season. Last season, the team went 23-10-1-1 against their provincial rivals and outscored their opponents by a margin of 181-120 in those games.
Going Streaking: In tonight's contest, Royals' forward Kaid Oliver extended his point scoring streak to four games. Oliver has tallied three goals and one assist in those games.
Hometown Boys: A pair of Royals' defencemen, in Mitchell Prowse and Remy Aquilon, played in their hometown tonight.
Coming up: The Royals are back in action tomorrow night when they head to Langley take on the Vancouver Giants. Victoria returns home on Wednesday, November 28th versus the Saskatoon Blades. Tickets can be purchased in person at the Select Your Tickets box office, over the phone by calling 250-220-7777, or online at www.selectyourtickets.com.
Text Box Score:
Victoria Royals 1 at Kelowna Rockets 3 – Status: Final
Friday, November 23, 2018 – Prospera Place – Kelowna, BC
Victoria 0 0 1 – 1
Kelowna 0 1 2 – 3
1st Period-
No Scoring.
Penalties-Foote Kel (high sticking), 10:47; Walford Vic (holding), 11:20; Thomson Kel (roughing), 17:47.
2nd Period-
1, Kelowna, Topping 10 (Thomson, Kindree), 10:47 (PP).
Penalties-Cowell Kel (tripping), 1:55; Walford Vic (boarding), 6:30; Smith Vic (tripping), 9:32; Prowse Vic (hooking), 9:53.
3rd Period-
2, Kelowna, Kindree 5 (Gardiner), 14:05.
3, Victoria, Oliver 14 (Fizer), 18:18.
4, Kelowna, Mattson 9   19:53 (EN).
Penalties-No Penalties
Shots on Goal-
Victoria 11-5-8-24.
Kelowna 7-14-8-29.
Power Play Opportunities-
Victoria 0 / 3;
Kelowna 1 / 4.
Goalies-
Victoria, Outhouse 11-5-0-0 (28 shots-26 saves).
Kelowna, Basran 9-8-1-0 (24 shots-23 saves).
A-5,033
Referees-Kyle Kowalski (15), Nick Panter (70).
Linesmen-Layne Richardson (158), Cody Wanner (56).