Outhouse Backstops Royals to 3-1 Win Against Giants Sunday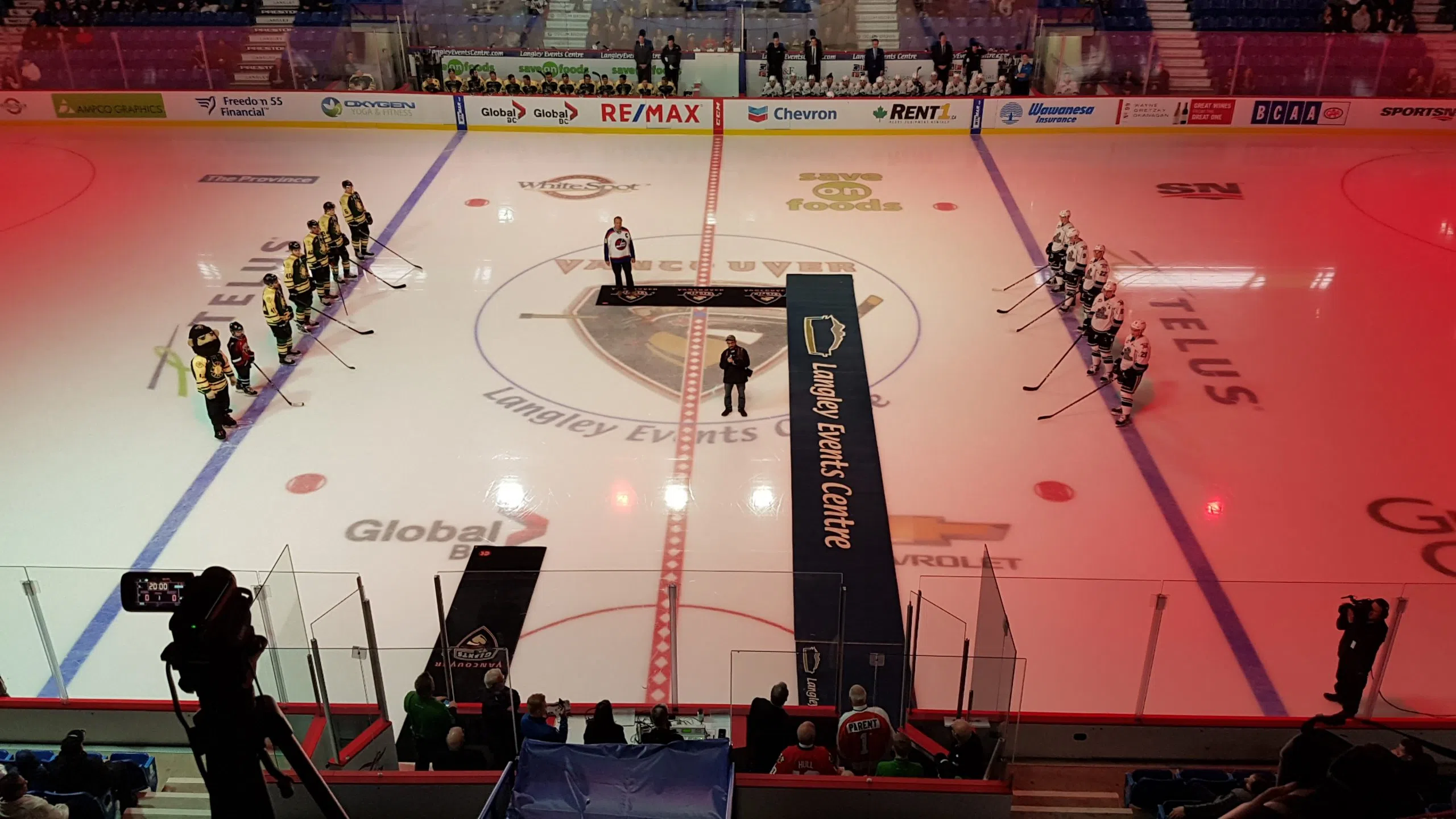 Nov 19, 2018
Marlon Martens

Griffen Outhouse made 28 saves, many of the spectacular variety to back-stop the visiting Victoria Royals to a 3-1 victory over the Vancouver Giants Sunday afternoon in Langley.
Killing a rare 6 on 3 late in the third, Dino Kambeitz scored an empty net, shorthanded goal for the insurance marker.
Royals Head Coach Dan Price:
Logan Doust notched his first in the WHL, while D-Jay Jerome was credited with the eventual game winner back in the first period.
Interview with Logan Doust:
Dylan Plouffe opened the scoring for the Giants who dropped two in a row, and were playing their 3rd game in 3 days.
The Royals won back to back games for the first time since October 13th.
Trent Miner took the loss stopping 22 of 24.

In a very physical game, surprisingly no penalties were called until late in the second period. Victoria went 0 for 3, while Vancouver was 0 for 4.
The visitors were again missing a pair of overagers in Dante Hannoun and Ralph Jarratt.
The Royals take a 2-1 season series lead over the Giants, and will meet again in Langley next Saturday night.
Victoria pulls within 6 points of Vancouver for top spot in the division, and hold 4 games in hand.
The Royals improve to 3-2 on the road this season, as they kicked off a stretch where they play 8 of 9 away from home.
Up next Victoria visits Kelowna next Friday night.
Marlon Martens
Franchise Milestone: In tonight's contest against Vancouver, Royals' goaltender Griffen Outhouse played in his 165th career regular season game. Outhouse has now tied, former Victoria netminder, Coleman Vollrath for the most games played in franchise history by a goaltender. He is also two wins away from becoming the first goalie in franchise history to reach 100 career victories.
Career First: Victoria forward Logan Doust, a North Vancouver native, notched his first career WHL goal, and point tonight. Doust appeared in three contests for the Saskatoon Blades last season, before he was acquired in the offseason by the Royals.
Going Streaking: In tonight's contest, both Royals' forward Kaid Oliver, and Giants' defenceman Dylan Plouffe tallied a point in their third straight game. Oliver has notched three points over that span (1g-2a), while Plouffe has recorded four assists.
Scoring First: With tonight's win over Vancouver, Victoria handed the Giants their first loss of the season when they have scored first. Coming into tonight's game, Vancouver were 9-0-0-0 when they opened the game's scoring. The Giants were only one of only two teams in the WHL, along with the Everett Silvertips (13-0-0-0), who were undefeated when scoring first.
Shorthanded: Tonight, Royals' forward Dino Kambeitz tallied his first shorthanded goal of this season, the team's sixth in total. Victoria's other five shorthanded goals have been scored by Kaid Oliver (2), Tyler Lees, Ralph Jarratt and Phillip Schultz. The team's six shorthanded tallies ranks third overall in the WHL, trailing only Prince Albert and Red Deer.
Coming up: Victoria continues their three-game road trip this Friday, November 23rd against the Kelowna Rockets and Saturday, November 24th versus the Vancouver Giants. The team returns home Wednesday, November 28th to face the Saskatoon Blades. Tickets can be purchased in person at the Select Your Tickets box office, over the phone by calling 250-220-7777, or online at www.selectyourtickets.com.
TEXT SCORING SUMMARY
Victoria Royals 3 at Vancouver Giants 1 – Status: Final
Sunday, November 18, 2018 – Langley Events Centre – Langley, BC
Victoria 2 0 1 – 3
Vancouver 1 0 0 – 1
1st Period-
1, Vancouver, Plouffe 2 (Nielsen, Koch), 5:03.
2, Victoria, Doust 1 (Schultz), 7:43. 3, Victoria, Jerome 11 (Oliver), 13:12.
Penalties-No Penalties
2nd Period-
No Scoring.Penalties-Plouffe Van (tripping), 16:57; Barberis Van (slashing), 20:00.
3rd Period-
4, Victoria, Kambeitz 4   19:47 (SH EN).
Penalties-Malchuk Vic (interference), 2:57; Dmytriw Van (boarding), 5:58; Walford Vic (interference), 6:48; Prowse Vic (hooking), 18:11; Sidaway Vic (tripping), 18:54.
Shots on Goal-
Victoria 10-6-9-25.
Vancouver 14-8-7-29.
Power Play Opportunities-
Victoria 0 / 3;
Vancouver 0 / 4.
Goalies-
Victoria, Outhouse 11-4-0-0 (29 shots-28 saves).
Vancouver, Miner 6-1-1-0 (24 shots-22 saves).
A-3,078
Referees-Ryan Benbow (62), Bryan Bourdon (45).
Linesmen-Nick Albinati (3), Chris Anninos.