Sidaway Leads Royals Past Former Club 2-1 Saturday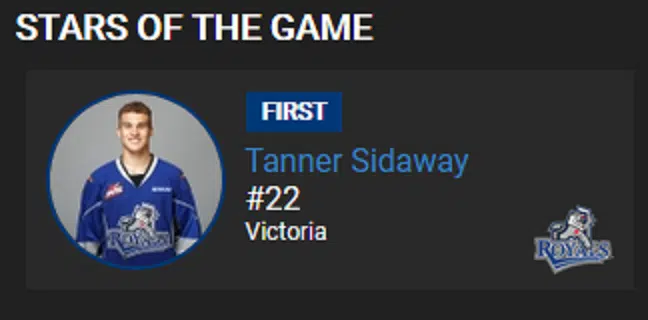 Nov 18, 2018
Marlon Martens

Tanner Sidaway scored the eventual game winner against his former club as the Victoria Royals edged the visiting Regina Pats 2-1 Saturday night.
After being tied 1-1 after 20, and a scoreless middle frame, Sidaway collected a pass from Dino Kambeitz positioned behind the goal, and one-timed it past his former netminder late in the 3rd period.
Sidaway spoke to the media following the win:
Griffen Outhouse earned the win stopping 17 of 18 shots, while Max Paddock was valiant making several big time saves, a total of 25 in the loss.
Victoria moved back into the win column, and also back into 2nd in the BC Divsion, 1 point ahead of Prince George.
Royals Head Coach Dan Price:
Regina has now lost all 3 games of their 6 game road trek.
The Royals were 1 for 7 on the power play, while the Pats went 0 for 3.
Jake Leschyshyn opened the scoring, followed by Kaid Oliver's team leading 13th with the man advantage.
Victoria wraps up their 3 game home-stand with a 2-1 record.
When tied after 40 minutes, the Royals improve to 6-0 on the season.
Sunday Victoria will visit Vancouver at 4pm, trying to string together back to back wins for the first time since October 17th, which came at the end of their 7 game win streak to start the year.
– Marlon Martens
Regina Pats 1 at Victoria Royals 2 – Status: Final
Saturday, November 17, 2018 – Save-On-Foods Memorial Arena – Victoria, BC
Regina 1 0 0 – 1
Victoria 1 0 1 – 2
1st Period-
1, Regina, Leschyshyn 15 (Streu, Pratt), 12:57.
2, Victoria, Oliver 13 (Walford, Jerome), 17:19 (PP).
Penalties-Evans Reg (holding), 6:21; Martynov Vic (hooking), 8:45; Walker Reg (checking to the head), 15:40; Krane Reg (interference), 17:49.
2nd Period-
No Scoring.Penalties-Schultz Vic (tripping), 9:56; Henry Reg (high sticking, high sticking), 12:01; Smith Vic (hooking), 17:16.
3rd Period-
3, Victoria, Sidaway 2 (Kambeitz, Prowse), 17:15.
Penalties-Henry Reg (hooking), 5:16; Walker Reg (high sticking), 9:37.
Shots on Goal-
Regina 5-6-7-18.
Victoria 14-6-7-27.
Power Play Opportunities-
Regina 0 / 3;
Victoria 1 / 7.
Goalies-
Regina, Paddock 5-11-0-0 (27 shots-25 saves).
Victoria, Outhouse 10-4-0-0 (18 shots-17 saves).
A-5,526
Referees-Stephen Campbell (14), Jeff Ingram (82).
Linesmen-Liam Reid (112), Riley Friesen (76).