Royals Settle for Split With Chiefs Saturday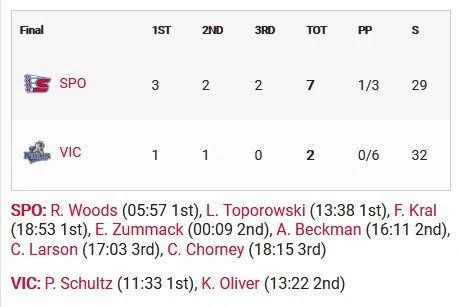 Nov 11, 2018
Marlon Martens

The Victoria Royals settled for a split of the two game set against the visiting Spokane Chiefs after a 7-2 defeat Saturday night.
The Royals had won 7-5 one night earlier. The Chiefs snapped their 3 game losing skid.
Victoria trailed 3-1 after 20 minutes, and 5-2 after 40. The only two goals in the third were empty netters.
"Difference in the game was the first 30 minutes, you had to know Spokane was going to come out desperate, intense, aggressive…we didn't match it, we weren't ready for it." said Royals Head Coach Dan Price,
"Any time a team is flat and not prepared to play, that's my responsibility…"
Victoria was 0 for 6 on the power play, while Spokane went 1 for 3.
WATCH: The @victoriaroyals wearing special jerseys to salute Canadian Forces tonight. Warm up underway vs Spokane. @TheZone913 pic.twitter.com/PaUmGKw3fT

— Marlon Martens (@VoiceVicRoyals) November 11, 2018
Griffen Outhouse was 22 for 27, while Dawson Weatherill stopped 30 of 32 for the win.
The Royals were without a pair of overagers in Dante Hannoun who had a goal and assist one night earlier and defenseman Ralph Jarratt who's out 4-6 weeks.
"I don't think we're too happy with it," said the games 3rd star, defenseman Scott Walford,
"The first 30 minutes we just weren't ready, and yeah, we have some guys out (Hannoun, Jarratt) but they had 2 of their top guys out as well (Jake McGrew, Jaret Anderson-Dolan). It's back to the drawing board for us and it's back to work tomorrow morning."
Victoria got goals from Kaid Oliver his 12th and Danish forward Philip Schultz who scored on a short handed breakaway which tied the game early at 1-1. The Royals allowed a late first period goal, to give the Chiefs a 3-1 lead, and the another just :09 seconds into the middle frame for a 3 goal cushion which proved insurmountable.
Spokane got goals from 7 different skaters. Leading the way was defenseman Filip Kral with 3 points (1g 2a), Riley Woods and rookie Adam Beckman had a goal and assist each while Ty Smith added a pair of helpers.
Marlon Martens
Notes:
Shorthanded: In tonight's contest, Royals' forward Phillips Schultz tallied a shorthanded marker, which is the team's fifth this season. Victoria's other shorthanded goals have been scored by Kaid Oliver (2), Tyler Lees and Ralph Jarratt. The team ranks second in the WHL in shorthanded goals.
Hosting the Chiefs: Over the past four seasons, Victoria holds a record of 7-3-0-0 versus Spokane at the Save-On-Foods Memorial Centre. In ten contests at home, Victoria has outscored the Chiefs 43-35.
Nice to See You: Royals' backup goaltender Connor Martin and Spokane forward Owen MacNeil started this season as teammates with the Calgary Royals Midget AAA of the Alberta Midget Hockey League (AMHL). Both players were recently called up by their respective WHL clubs.
WHL Debut: In tonight's contest, Spokane forward Owen MacNeil played in his first career WHL game. MacNeil was drafted in the second round, 39th Overall, in the 2018 WHL Bantam Draft. He was signed to a WHL standard player agreement by the Chiefs in August.
Rise of the Rookie: After he collected a goal and an assist tonight, Spokane rookie forward Adam Beckman extended his lead in the WHL in goals by a rookie with nine.
Coming Up: The Royals have a week off, before returning to the Save-On-Foods Memorial Centre on Saturday, November 17th against the Regina Pats. Tickets can be purchased in person at the Select Your Tickets box office, over the phone by calling 250-220-7777, or online at www.selectyourtickets.com.
TEXT SCORING SUMMARY
Spokane Chiefs 7 at Victoria Royals 2 – Status: Final
Saturday, November 10, 2018 – Save-On-Foods Memorial Arena – Victoria, BC
Spokane 3 2 2 – 7
Victoria 1 1 0 – 2
1st Period-
1, Spokane, Woods 15 (Feist), 5:57.
2, Victoria, Schultz 4   11:33 (SH).
3, Spokane, Toporowski 6 (Reid, Kral), 13:38 (PP).
4, Spokane, Kral 1 (Smith), 18:53.
Penalties-Walford Vic (cross checking), 9:47; Prowse Vic (tripping), 13:16; Reid Spo (hooking), 14:18.
2nd Period-
5, Spokane, Zummack 7 (Beckman, Kral), 0:09.
6, Victoria, Oliver 12 (Jerome, Walford), 13:22.
7, Spokane, Beckman 9 (Arbuzov, Smith), 16:11.
Penalties-McIndoe Spo (interference), 7:13; Feist Spo (tripping), 10:43; Toporowski Spo (high sticking), 17:10.
3rd Period-
8, Spokane, Larson 2   17:03 (EN).
9, Spokane, Chorney 7 (Woods), 18:15 (SH EN).
Penalties-Toporowski Spo (interference), 7:28; Malchuk Vic (high sticking), 13:12; MacNeil Spo (hooking), 17:45.
Shots on Goal-
Spokane 14-10-5-29.
Victoria 5-15-12-32.
Power Play Opportunities-
Spokane 1 / 3;
Victoria 0 / 6.
Goalies-
Spokane, Weatherill 2-4-0-1 (32 shots-30 saves).
Victoria, Outhouse 9-4-0-0 (27 shots-22 saves).
A-6,525
Referees-Mike Campbell (89), Ward Pateman (124).
Linesmen-Liam Reid (112), Chris Van Deventer (145).