Royals Elude Chiefs 7-5 Friday
Nov 10, 2018
Marlon Martens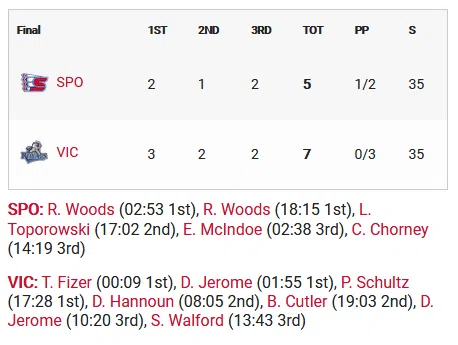 The Victoria Royals snapped a 2 game skid with a 7-5 victory over the visiting Spokane Chiefs Friday night, in the first of back to back games.
The Chiefs had their losing streak extended to 3 games.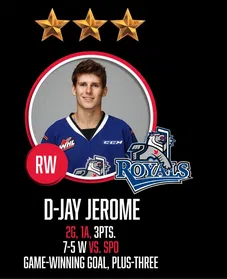 6 different skaters scored goals for the Royals, while a trio had 3 point games; D-Jay Jerome (2g 1a), Brandon Cutler (1g 2a) and Sean Gulka (0g 3a).
3 players had 2 point nights; Tarun Fizer and Dante Hannoun who was back after a 3 game absence due to injury, had 1 goal and 1 assist each. Defenseman Matthew Smith added two apples.
Single goals came from Phillip Schultz (3rd), and Scott Walford (1st).
Victoria never trailed, jumping to 2-0 lead less than two minutes in, as Fizer tied the franchise record for fastest goal to start a game at :09 seconds.
The two goals on two shots chased starter Bailey Brkin from the nets. Dawson Weatherill came in relief stopping 28 of 33 pucks.
Hear from Royals bench boss Dan Price post game:
Griffen Outhouse earned his 9th win with 30 saves, including a timely stop of Woods late to keep the Chiefs at bay.
Game Photos: bit.ly/2qM6Z3D
4 times Spokane battled to get back within a goal, until the third when Victoria jumped to 7-4 lead after Walford's 1st of the season.
All 7 of the Royals goals came at even strength, as the club went 0 for 3 on the power play – yet generated many scoring chances.
The Chiefs 6th most efficient power play went 1 for 2.
Riley Woods had 2 goals and an assist on the night, while defenseman Nolan Reid added a pair of helpers. Ethan McIndoe scored on a breakaway and the other single came from Carter Chorney.
Puck drop in the rubber match at 7pm Saturday.
Marlon Martens
Quick Strike: Tonight, Tarun Fizer opened the scoring just nine seconds into the first period. Fizer's tally tied the franchise record for the quickest goal to open a game, which had previously occurred on two occasions. Those goals were scored by Royals' alumnus Taylor Crunk on March 8, 2014 against the Kamloops Blazers and by former Chilliwack Bruin Ryan Howse on January 9, 2011 vs. the Seattle Thunderbirds.
High Scoring Start: To begin tonight's contest, the Royals opened scoring two goals on their first two shots of the game. The Chiefs responded by scoring on their first shot of the contest as well.
A Night of Firsts: There was a pair of firsts in tonight's contest for the Royals. Defenceman Remy Aquilon recorded his first career WHL point, with an assist on Brandon Cutler's goal. Meanwhile, forward Sean Gulka registered his first points as a Royal, all assists, in his first game against his former team.
Spreading the Wealth: Tonight's game saw 10 different Royals find the scoresheet, as six of those skaters tallied multiple points.
Team WHL: This evening's game marked the first match-up between Victoria's Scott Walford, and Spokane's Ty Smith since they played as teammates for Team WHL in the CIBC Canada Russia Super Series earlier this week.
Up Next: The Victoria Royals finish their back-to-back set against the Spokane Chiefs tomorrow in the club's annual Canadian Forces Appreciation Night. For tomorrow's game, the Royals will wear special commemorative jerseys with the CFB Esquimalt crest on them. These jerseys will be auctioned through a live post-game auction with proceeds supporting Boomer's Legacy, and The Royal Canadian Legion. Tickets can be purchased in person at the Select Your Tickets box office, over the phone by calling 250-220-7777, or online at www.selectyourtickets.com.
TEXT SCORING SUMMARY
Spokane Chiefs 5 at Victoria Royals 7 – Status: Final
Friday, November 9, 2018 – Save-On-Foods Memorial Arena – Victoria, BC
Spokane 2 1 2 – 5
Victoria 3 2 2 – 7
1st Period-
1, Victoria, Fizer 2 (Gulka, Smith), 0:09.
2, Victoria, Jerome 9 (Prowse), 1:55.
3, Spokane, Woods 13 (Kral, Arbuzov), 2:53.
4, Victoria, Schultz 3 (Fizer, Gulka), 17:28.
5, Spokane, Woods 14 (Reid, McGrew), 18:15.
Penalties-Smith Spo (unsportsmanlike cnd.), 7:26; Kambeitz Vic (roughing), 7:26; Woods Spo (hooking), 10:44.
2nd Period-
6, Victoria, Hannoun 7 (Cutler, Outhouse), 8:05.
7, Spokane, Toporowski 5 (Reid, Beckman), 17:02 (PP).
8, Victoria, Cutler 5 (Hannoun, Aquilon), 19:03.
Penalties-Larson Spo (interference), 1:17; Murray Vic (delay of game), 15:44.
3rd Period-
9, Spokane, McIndoe 5 (Woods), 2:38.
10, Victoria, Jerome 10 (Cutler, Gulka), 10:20.
11, Victoria, Walford 1 (Smith, Jerome), 13:43.
12, Spokane, Chorney 6   14:19.
Penalties-Sidaway Vic (checking from behind), 6:34; Larson Spo (tripping), 11:36; Outhouse Vic (slashing), 20:00.
Shots on Goal-
Spokane 6-13-16-35.
Victoria 16-14-5-35.
Power Play Opportunities-
Spokane 1 / 2;
Victoria 0 / 3.
Goalies-
Spokane, Brkin 7-3-1-1 (2 shots-0 saves); Weatherill 1-4-0-1 (33 shots-28 saves).
Victoria, Outhouse 9-3-0-0 (35 shots-30 saves).
A-4,626
Referees-Adam Griffiths (36), Sean Raphael (28).
Linesmen-Riley Friesen (76), Cole Cooke (130).