Royals Slighted By Winterhawks 2-1 Saturday in Portland
Nov 04, 2018
Marlon Martens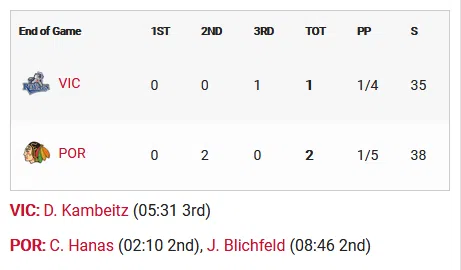 The Victoria Royals were edged on the road 2-1 by the Portland Winterhawks Saturday night.
Dino Kambeitz scored the lone Royals goal, while Griffen Outhouse made 36 saves to keep his club in it.
Royals Head Coach Dan Price Post Game Interview:
Winterhawk netminder Shane Farkas was the games first star with 34 stops.
Joachim Blichfeld scored the eventual game winner in the second and added an assist, while Cody Glass assisted on both Portland goals. Cross Hanus added a single.
Victoria was without a pair of 20 year olds in Dante Hannoun and Ralph Jarratt, along with their leading scorer Kaid Oliver.
Portland sweeps the 2 game set after a 7-3 victory one night earlier.
Both clubs struck once on the power play.
There was one fight as D-Jay Jerome squared off against Mason Mannek late in the first, after Jerome's interference hit on Ryan Hughes, who did not return to the game.
Looking to snap a 2 game losing skid, Victoria returns home to face Spokane for a pair of games Friday and Saturday.
Marlon Martens
Notes:
Potent Powerplay: After scoring on the man-advantage tonight, the Royals have collected a powerplay goal in each of last four road games this season. Victoria holds a mark of 6/16=37.5% on the man-advantage, which is good for the top powerplay in the WHL.
CIBC Canada Russia Series: This week, Royals' defenceman Scott Walford and Winterhawks' forward Cody Glass will represent Team WHL in the CIBC Canada Russia series. This will mark the sixth time that a Victoria Royals' player has participated in the event. Other players who have played in the match-up include Matthew Phillips (2017-18), Tyler Soy (2016-17), Joe Hicketts (2014-16), Steven Hodges (2012-13), and Kevin Sundher (2011-12).
 A Familiar Face: With his assist tonight, Portland defenceman Jared Freadrich recorded his second point of the weekend series against his former team. Freadrich collected 32 points (12g-20a) in 71 games for the Victoria Royals last season.
Powerplay Maestro: Portland Winterhawks' forward Cody Glass is leading the WHL in powerplay assists with 12. In 14 games this season, the Las Vegas Golden Knights' prospect has collected 29 points (6g-23a).
 Coming Up: Victoria will open a three game homestand with a weekend series against the Spokane Chiefs. The games will take place on Friday, November 9th and Saturday, November 10th at the Save on Foods Memorial Centre. Saturday's contest is Canadian Forces appreciation night. Tickets can be purchased in person at the Select Your Tickets box office, over the phone by calling 250-220-7777, or online at www.selectyourtickets.com.
TEXT SCORING SUMMARY
Victoria Royals 1 at Portland Winterhawks 2 – Status: End of Game
Saturday, November 3, 2018 – Veterans Memorial Coliseum – Portland, OR
Victoria 0 0 1 – 1
Portland 0 2 0 – 2
1st Period-
No Scoring.
Penalties-Walford Vic (high sticking), 5:16; Prowse Vic (holding), 10:14; Hughes Por (holding), 13:46; Jerome Vic (interference, major-fighting), 19:23; Mannek Por (unsportsmanlike cnd., major-fighting), 19:23.
2nd Period-
1, Portland, Hanas 2 (Glass, Blichfeld), 2:10.
2, Portland, Blichfeld 12 (Glass, Freadrich), 8:46 (PP).
Penalties-Freadrich Por (delay of game), 4:22; Prowse Vic (roughing), 6:40; Kambeitz Vic (slashing), 8:12; Prowse Vic (tripping), 16:00; Ludvig Por (slashing), 19:45.
3rd Period-
3, Victoria, Kambeitz 3 (Martynov, Prowse), 5:31 (PP).
Penalties-De Jong Por (interference), 3:41.
Shots on Goal-Victoria 12-10-13-35. Portland 14-12-12-38.
Power Play Opportunities-Victoria 1 / 4; Portland 1 / 5.
Goalies-
Victoria, Outhouse 8-3-0-0 (38 shots-36 saves).
Portland, Farkas 9-5-0-1 (35 shots-34 saves).
A-
Referees-Ryan O'Keeffe (30), Mark Pearce (5).
Linesmen-Adam Harris (95), Nathan Van Oosten (115).