Royals Dropped 7-3 By 'Hawks Friday in Portland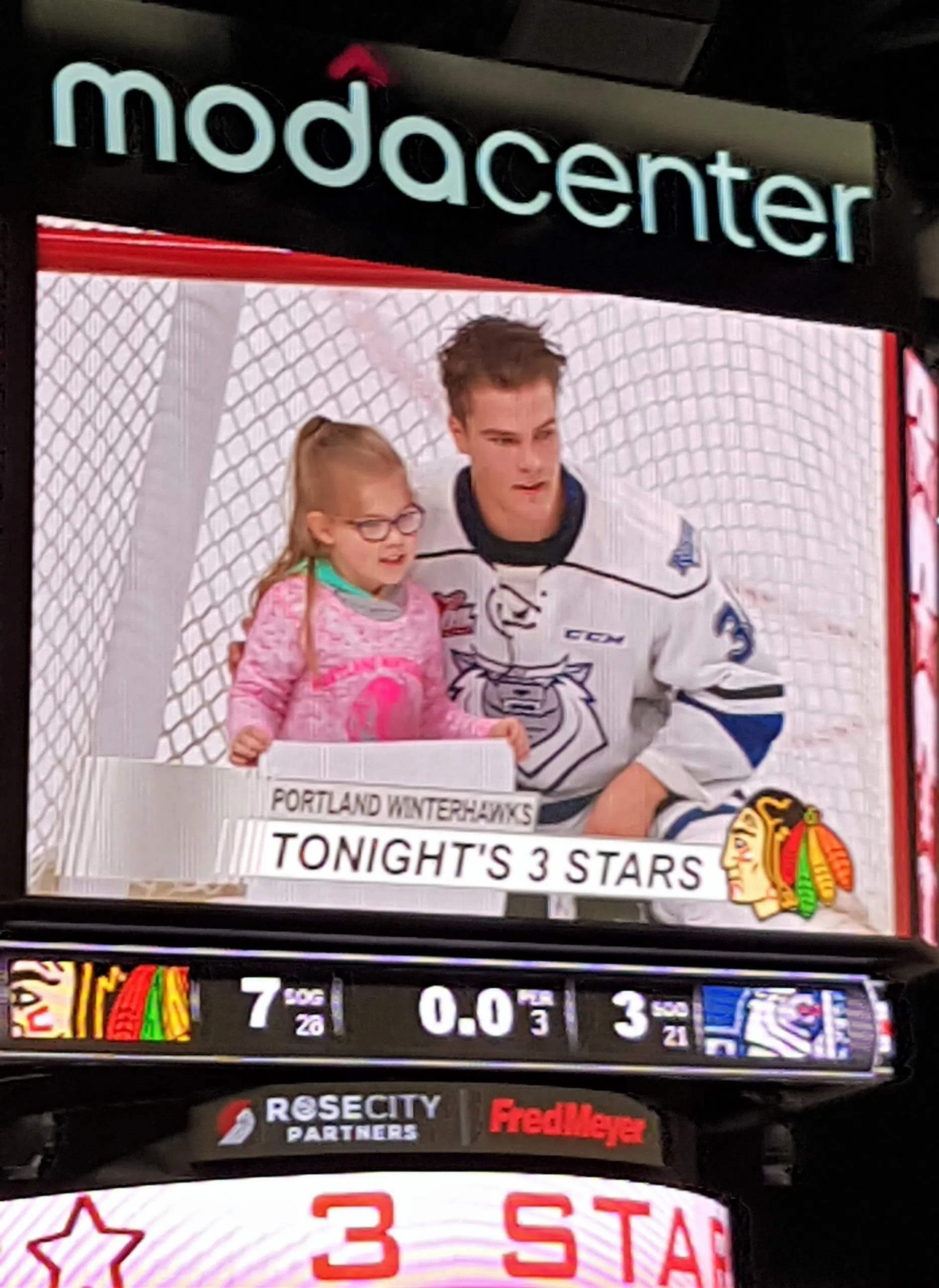 Nov 03, 2018
Marlon Martens
Above, Kaid Oliver was the game's 2nd star with his 2 goal performance.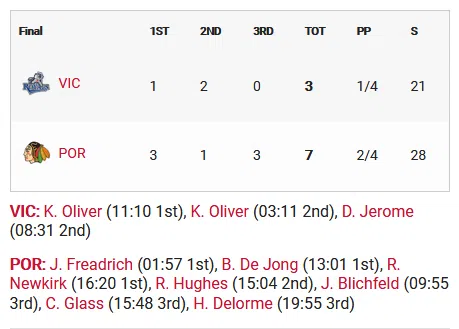 The Portland Winterhawks (8-6-0-1) scored the last 4 goals of the game to snap their 3 game skid and drop the visiting Victoria Royals 7-3 Friday night.
The Royals (9-4) had clawed back from a two goal deficit to tie the game at 3-3 mid-way through the 2nd period.
Victoria Head Coach, Dan Price post game interview:
However Ryan Hughes struck before the frame was out for the eventual game winner, before the Winterhawks scored the only 3 goals of the third period.
Royals forward Kaid Oliver scored twice, both times on the power play, and D-Jay Jerome notched a single with a highlight reel breakaway goal.
Watch: Oliver and Jerome highlight goal. @victoriaroyals pic.twitter.com/i9PM7kGCYZ

— Marlon Martens (@VoiceVicRoyals) November 3, 2018
Oliver extends his point streak to 5 games (5g 3a) and 8 points while leading his club in scoring with 18 points in 12 games (11-7). Igor Martynov had his 5 game assist streak snapped.
The Winterhawks got goals from 7 different players. Ryan Hughes scored the winner and added an assist. Joachim Blichfeld also went 1-1, while Cody Glass had a 4 point night with a goal and 3 helpers. Singles of the sticks of former Royal Jared Freadrich, Victoria native Brendan De Jong, Reece Newkirk, and Haydn Delorme.
Both clubs went 2 for 5 on the power play. Portland is the most efficient team in the WHL with the man advantage.
Victoria netminder Griffen Outhouse stopped 21 of 27 shots, the final goal was into an empty net. Shane Farkas allowed 3 on 21 Royals shots.
Royals forward Phillip Schultz returned to the lineup after a 2 game absence, however the club is still without overage forward Dante Hannoun due to injury (1-2 weeks).
The rematch goes Saturday night at 6pm.
– Marlon Martens
Notes:
Power Play Precision: With a powerplay goal in tonight's game, the Royals have now scored at least one man-advantage marker in each of their three road games this season. In those contests Victoria is 5/13=38.5%, which is the best road powerplay mark in the WHL.
Putting up Points: With two goals tonight, Royals' forward Kaid Oliver extended his point streak to five games. During his point scoring streak, Oliver has recorded nine points (6g-3a). He currently leads the team in both points (18) and goals (11) through 13 games this season.
Familiar Face:  In tonight's contest, Portland's 20-year-old defenceman, Jared Freadrich played against his former team for the first time since he was traded from Victoria in May of this year. In his lone season with the Royals, Freadrich recorded 32 points (12g-20a) in 71 games with the club.
Homegrown Talent: Defenceman Brendan De Jong of the Portland Winterhawks was born and raised in Victoria, BC. The defender grew up playing for the Juan de Fuca Grizzlies in the Vancouver Island Bantam Hockey League (VIBHL) in 2012-13 and the Saanich Braves of the Vancouver Island Junior Hockey League (VIJHL) in 2013-14.
Coming Up: The Royals finish their two-game road trip against the Portland Winterhawks tomorrow night, at 6:00 p.m. Victoria's next home game is on Friday, November 9th vs. the Spokane Chiefs. Tickets can be purchased in person at the Select Your Tickets box office, over the phone by calling 250-220-7777, or online at www.selectyourtickets.com.
TEXT SCORING SUMMARY:
Victoria Royals 3 at Portland Winterhawks 7 – Status: End of Game
Friday, November 2, 2018 – Moda Center – Portland, OR
Victoria 1 2 0 – 3
Portland 3 1 3 – 7
1st Period-
1, Portland, Freadrich 2 (Glass, Blichfeld), 1:57 (PP).
2, Victoria, Oliver 10 (Jerome, Walford), 11:10 (PP).
3, Portland, De Jong 4 (Hanus, Glass), 13:01 (PP).
4, Portland, Newkirk 9 (Gilliss), 16:20.
Penalties-Martynov Vic (tripping), 1:32; Ludvig Por (interference), 3:45; Jerome Vic (interference), 8:14; served by Dureau Por (too many men), 10:53; Sidaway Vic (checking to the head), 11:29; Quigley Por (hooking), 18:18.
2nd Period-
5, Victoria, Oliver 11 (Cutler, Fizer), 3:11.
6, Victoria, Jerome 8   8:31.
7, Portland, Hughes 5 (Gricius), 15:04.
Penalties-De Jong Por (high sticking), 1:09; Cutler Vic (slashing), 5:37; Walford Vic (roughing), 8:18; Blichfeld Por (roughing), 8:18.
3rd Period-
8, Portland, Blichfeld 11 (Hughes, Glass), 9:55.
9, Portland, Glass 6   15:48.
10, Portland, Delorme 1 (Kvasnica, Perna), 19:55 (EN).
Penalties-Fizer Vic (tripping), 5:08; Blichfeld Por (delay of game), 7:38.
Shots on Goal-
Victoria 4-11-6-21.
Portland 8-9-11-28.
Power Play Opportunities-
Victoria 1 / 4;
Portland 2 / 4.
Goalies-
Victoria, Outhouse 8-2-0-0 (27 shots-21 saves).
Portland, Farkas 8-5-0-1 (21 shots-18 saves).
A-5,867
Referees-Stephen Campbell (14), Nick Swaine (35).
Linesmen-Nick Bilko (66), Erik Freeman (104).