Royals Upend Wheat Kings 3-1 Saturday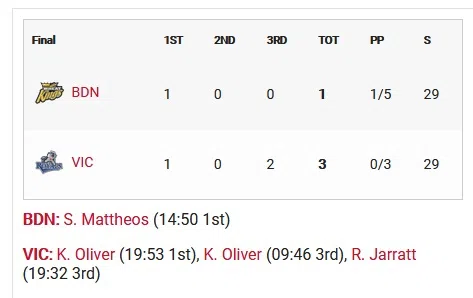 Oct 28, 2018
Marlon Martens

Kaid Oliver scored twice and Griffen Outhouse made 28 saves in his return as the Victoria Royals (9-3) downed the Brandon Wheat Kings 3-1 Saturday night.
Oliver snapped a 1-1 draw in the third for the eventual game winner, and Ralph Jarratt notched a short handed empty net goal for insurance to help snap a 2 game skid.
Oliver post game media scrum:
Royals Head Coach Dan Price:
The Wheat Kings fall to winless in 4, while playing their 3rd of a 7 game road trip.
Brandon's lone goal came off the stick of their leading scorer and Carolina draft pick Stelio Mattheos.

Victoria's power play was held off the scoresheet for a 3rd straight game 0/3 while Brandon went 1 for 5 with the man advantage.
After the Wheat Kings opened the scoring, Oliver tied the game with less than 10 seconds to go in the first period.
After Victoria doubled Brandon 12-6 in shots in the first, the Wheat Kings responded with a 16-6 advantage in the middle frame, but Outhouse made timely stops off Mattheos and Burzan to keep the game even going to the third.
Oliver's backhander gave the home squad the lead mid way through the final frame, giving him a team leading 16 points (9g 7a) in 12 games.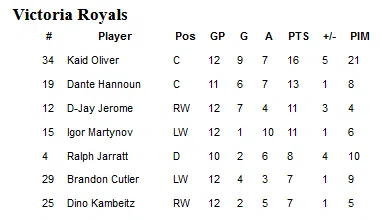 The Royals were without Dante Hannoun (13pts), Phillip Schultz and Logan Doust. Sean Gulka made his debut with the club.
The Royals wrap up their 6 game home-stand on a high note, going 3-3.
Victoria now heads out to face Portland for a pair of games next weekend.
Marlon Martens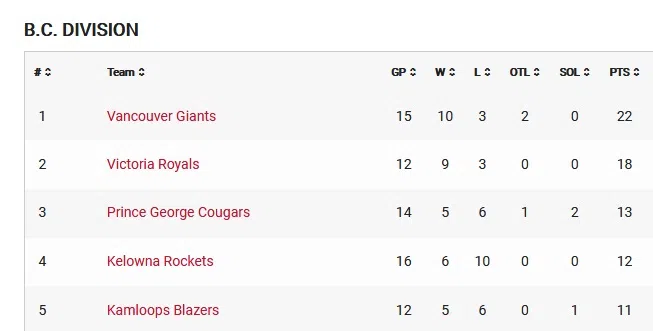 NOTES:
Eastern Battles: With tonight's victory over Brandon, the Royals have improved to 2-0 this season against the East Division and Eastern Conference. Since the Royals inaugural season in 2011-12, the team has posted a record of 62-41-3-8 versus Eastern teams, which includes a mark of 27-13-2-2 against the Eastern Division.
Outhouse Returns: Royals' goaltender Griffen Outhouse made his return to the line-up after a two-game absence. He is one of two WHL netminders to rank in the league's top five in wins, goals against average (GAA) and save percentage (SV%). He ranks third in SV% (0.942), tied for third in wins (8) and fourth in GAA (1.89).
Going Streaking: Royals' forwards Kaid Oliver and Igor Martynov each extended their point streaks against Brandon. Oliver is on a four-game point streak where he has recorded seven points (4-3a), while Martynov has tallied an assist in each of his past five contests.
Out of the Gate: Royals' forward Kaid Oliver, and Brandon forward Stelio Mattheos both have scored the first goal of the game on three sperate occasions, which ranks first in the WHL. Both players also lead their respective teams in scoring, as Oliver has registered 16 points (9g-7a) in 12 games, and Mattheos has collected 21 points (13g-8a) in 13 contests.
Return to YYJ: In tonight's contest forward Sean Gulka made his Royals' debut. Gulka was drafted by the Royals 182nd overall (ninth round) in the 2015 Bantam Draft, however had his rights traded to Spokane in November 2017. Gulka tallied two points in eight games over the course of two seasons with Spokane, before having his rights re-acquired by Victoria via trade this week.
Coming Up: The Royals begin a two-game road trip in Portland against the Winterhawks on Friday November 2nd, and Saturday November 3rd. Victoria's next home game is on November 9th vs the Spokane Chiefs. Tickets can be purchased in person at the Select Your Tickets box office, over the phone by calling 250-220-7777, or online at www.selectyourtickets.com.
TEXT SCORING SUMMARY
Brandon Wheat Kings 1 at Victoria Royals 3 – Status: Final
Saturday, October 27, 2018 – Save-On-Foods Memorial Arena – Victoria, BC
Brandon 1 0 0 – 1
Victoria 1 0 2 – 3
1st Period-
1, Brandon, Mattheos 13 (Wytinck, Gutenberg), 14:50 (PP).
2, Victoria, Oliver 8 (Jerome, Fizer), 19:53.
Penalties-Lambos Bdn (major-fighting), 1:56; Cutler Vic (major-fighting), 1:56; McCartney Bdn (inter. on goaltender), 6:52; Sidaway Vic (checking from behind, roughing), 6:52; Iorio Bdn (interference), 8:41; Martynov Vic (high sticking), 13:24; Mattheos Bdn (roughing), 17:51.
2nd Period-
No Scoring.
Penalties-Oliver Vic (interference), 4:27; Jarratt Vic (elbowing), 14:03.
3rd Period-
3, Victoria, Oliver 9 (Martynov, Prowse), 9:46.
4, Victoria, Jarratt 2 (Kambeitz), 19:32 (SH EN).
Penalties-Hartje Bdn (interference), 12:20; Oliver Vic (hooking), 19:26.
Shots on Goal-
Brandon 6-16-7-29.
Victoria 12-6-11-29.
Power Play Opportunities-
Brandon 1 / 5;
Victoria 0 / 3.
Goalies-
Brandon, Patera 6-3-2-0 (28 shots-26 saves).
Victoria, Outhouse 8-1-0-0 (29 shots-28 saves).
A-4,703
Referees-Jeff Ingram (82), Troy Paterson (60).
Linesmen-Trevor Beaton (155), Michael Labbe (73).