Royals Dropped By Rockets 5-1 Saturday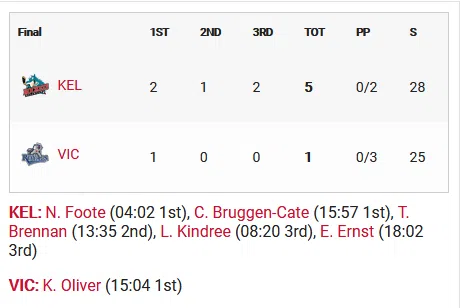 Oct 21, 2018
Marlon Martens
The Kelowna Rockets upended their hosts Victoria Royals 5-1 Saturday, to sweep the two game Island set after an 8-2 win one night earlier.
Kelowna has now won 3 of their last 4, while Victoria who started 7-0, have dropped 3 of their last 4 games, all at home.
Saturday the Rockets got goals from 5 different skaters and held period leads of 2-1, and 3-1 before striking twice in the third including an empty net goal. They held the Royals to just 6 shots in the third period to stymie any comeback.
Kaid Oliver scored the lone goal for the home team and leads the club in scoring with 14 points.
Kelowna was backstopped again by Roman Basran who was named first star making 24 saves.
Victoria was without the services of overage netminder Griffen Outhouse for a second consecutive night due to an apparent minor injury.
"He'll be fine, he's good to go…just a little tired, a little sore, getting him some rest that's all it is – he'll be good to go I'm sure." said Head Coach Dan Price when questioned on Outhouse's status.
16 year old and 6'4 rookie goaltender Brock Gould was valiant, going the distance stopping 23 of 27 shots in his 3rd consecutive appearance.
The Royals went 0 for 3 on the power play and 0 for 9 in the two game set. The Rockets were 0 for 2 with the man advantage after notching 4 goals on the power play in Friday's win.
Kelowna got goals from Liam Kindree (1g 1a), Conner Bruggen-Cate, Nolan Foote, Ted Brennan, and Ethan Ernst. Dalton Gally added 2 assists.
Victoria wraps up their 6 game homestand when they entertain the Brandon Wheat Kings next Saturday night.
Marlon Martens
TEXT SCORING SUMMARY
Kelowna Rockets 5 at Victoria Royals 1 – Status: Final
Saturday, October 20, 2018 – Save-On-Foods Memorial Arena – Victoria, BC
Kelowna 2 1 2 – 5
Victoria 1 0 0 – 1
1st Period-
1, Kelowna, Foote 7 (Korczak, Kindree), 4:02.
2, Victoria, Oliver 7 (Smith, Martynov), 15:04.
3, Kelowna, Bruggen-Cate 3 (Gally, Thomson), 15:57.
Penalties-Liwiski Kel (kneeing), 5:18; Brennan Kel (tripping), 8:56.
2nd Period-
4, Kelowna, Brennan 1 (Gardiner), 13:35.
Penalties-Aquilon Vic (hooking), 3:41; Aquilon Vic (holding), 9:56.
3rd Period-
5, Kelowna, Kindree 3 (Gally, Topping), 8:20.
6, Kelowna, Ernst 1 (Wilton), 18:02 (EN).
Penalties-Liwiski Kel (roughing), 9:34; Prowse Vic (high sticking), 9:34; Liwiski Kel (major-fighting), 11:40; Prowse Vic (major-fighting), 11:40; Korczak Kel (slashing), 12:10.
Shots on Goal-
Kelowna 5-11-12-28.
Victoria 13-6-6-25.
Power Play Opportunities-
Kelowna 0 / 2;
Victoria 0 / 3.
Goalies-
Kelowna, Basran 3-6-0-0 (25 shots-24 saves).
Victoria, Gould 1-2-0-0 (27 shots-23 saves).
A-4,557
Referees-Trevor Nolan (51), Kyle Kowalski (15).
Linesmen-Jordan Browne (90), Chris Van Deventer (145).