Royals Falter in 8-2 Defeat To Rockets Friday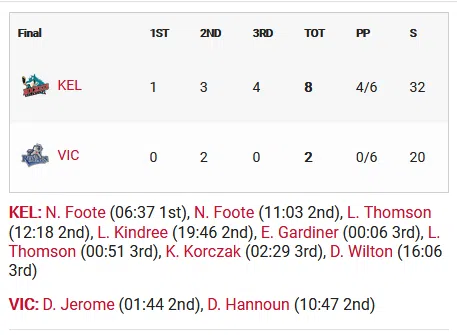 Oct 20, 2018
Marlon Martens
The Kelowna Rockets (3-9) scored the last 7 goals of the game to overcome a 2-1 deficit and upend the host Victoria Royals 8-2 Friday night, in the first of back to back games.
The Rockets got their first 4 goals via the power play, and their penalty killing stifled all 6 Royals (8-2) man advantages.
Victoria scored twice in the second to take a 2-1 lead, but 3 straight power play goals gave Kelowna a 4-2 lead heading to the third.
In the final frame the Rockets scored 3 times in the first 2:29 to blow the game open.
Kelowna was backstopped by an 18 save performance from Roman Basran while Victoria goaltender Brock Gould was chased from the nets after allowing 6 goals on 22 shots.
Joel Gryzbowski came in relief to stop 8 of the remaining 10 attempts. Grzybowski was called up from North Battleford of the Saskatchewan Junior League and had played 1 previous game with Victoria last year.
Royals overage netminder Griffen Outhouse was a scratch.
According to the Times Colonist,
"[Outhouse] has a little tweak, so we decided to give Griffen a break tonight," said Royals GM Cameron Hope.
Hope said the undisclosed ailment is not believed to be serious and that Outhouse would be re-assessed before tonight's rematch between Royals and Rockets at the Memorial Centre.
Kelowna got 4 point nights from Lassi Thomson (2g 2a), and Liam Kindree (1g 3a), while Nolan Foote scored twice and Kyle Topping added a pair of assists. Singles came from Reid Gardiner, Kaedan Korczak and Dallon Wilton.
Victoria got goals from D-Jay Jerome and Dante Hannoun.
Former Royals Lane Zablocki played his first game since the trade to the Rockets. Coming off injury he made his presence felt by bringing his physical and agitating style.
Their were two fights in the game, Dino Kambeitz vs Lief Mattson, and Kaid Oliver vs Reid Gardiner.
The season series is tied at 1-1 after Victoria won in Kelowna by a 4-3 score on October 5th.
Saturday night's rematch begins at 7:05.
-Marlon Martens
Notes:
Home Sweet Home: Of the Royals' opening 10 games this season, eight have taken place at the Save-On-Foods Memorial Centre. Victoria has played the most home games in the league and hold a record of 8-2-0-0 in those contests.
Penalty Shot: In tonight's contest, Royals' netminder Brock Gould stopped Kelowna's Leif Mattson on a penalty shot. Since their inaugural season in 2011-12, Victoria has had 19 penalty shots taken against them and have only allowed three goals.
Familiar Face: Former Royal, Lane Zablocki made his Kelowna Rockets' debut tonight after he missed the start of the season due to an off-season injury. Victoria traded Zablocki to Kelowna in September for a conditional seventh round pick in 2019 and conditional fourth round pick in the 2021. Last season, Zablocki was acquired by the Royals at the trade deadline and recorded six points (1g-5a) in 25 games.
Local Products: Kelowna has a trio of local players on their roster in forwards Ted Brennan of Victoria, Kyle Topping of Salts Spring Island and defenceman Kyle Pow of Nanaimo.
Up Next: Victoria and Kelowna complete their two-game set against each other tomorrow night. Puck drop is at 7:05 p.m. Tickets can be purchased in person at the Select Your Tickets box office, over the phone by calling 250-220-7777, or online at www.selectyourtickets.com.
TEXT SCORING SUMMARY
Kelowna Rockets 8 at Victoria Royals 2 – Status: Final
Friday, October 19, 2018 – Save-On-Foods Memorial Arena – Victoria, BC
Kelowna 1 3 4 – 8
Victoria 0 2 0 – 2
1st Period-
1, Kelowna, Foote 5 (Topping, Kindree), 6:37 (PP).
Penalties-Walford Vic (checking from behind), 3:04; Prowse Vic (high sticking), 6:04; Farren Kel (holding), 8:02; Topping Kel (tripping), 8:59; Gardiner Kel (hooking), 13:18.
2nd Period-
2, Victoria, Jerome 7 (Oliver, Martynov), 1:44.
3, Victoria, Hannoun 6   10:47.
4, Kelowna, Foote 6 (Kindree, Thomson), 11:03 (PP).
5, Kelowna, Thomson 5 (Kindree, Zablocki), 12:18 (PP).
6, Kelowna, Kindree 2 (Topping), 19:46 (PP).
Penalties-Mattson Kel (major-fighting), 9:35; Kambeitz Vic (major-fighting), 9:35; Sidaway Vic (slashing), 9:52; Zablocki Kel (slashing), 10:03; Hannoun Vic (inter. on goaltender), 10:47; Oliver Vic (tripping), 11:40; Oliver Vic (inter. on goaltender), 18:37.
3rd Period-
7, Kelowna, Gardiner 1   0:06.
8, Kelowna, Thomson 6 (Cowell, Bruggen-Cate), 0:51.
9, Kelowna, Korczak 2   2:29.
10, Kelowna, Wilton 3 (Thomson, Mattson), 16:06.
Penalties-Chizen Kel (holding), 7:01; Gardiner Kel (major-fighting), 12:24; Oliver Vic (major-fighting), 12:24; Wilton Kel (interference), 13:37; Wilton Kel (roughing), 19:45.
Shots on Goal-
Kelowna 9-11-12-32.
Victoria 9-8-3-20.
Power Play Opportunities-
Kelowna 4 / 6;
Victoria 0 / 6.
Goalies-
Kelowna, Basran 2-6-0-0 (20 shots-18 saves).
Victoria, Gould 1-1-0-0 (22 shots-16 saves); Grzybowski 0-0-0-0 (10 shots-8 saves).
A-4,221
Referees-Ryan Benbow (62), Ryan O'Keeffe (30).
Linesmen-Cole Cooke (130), Liam Reid (112).