Royals Buck Broncos 5-2 Wednesday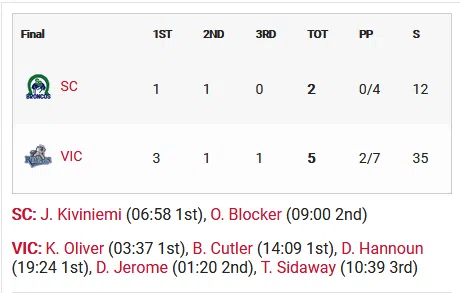 Oct 18, 2018
Marlon Martens

The Victoria Royals got goals from 5 different skaters as they bucked the visiting Swift Current Broncos 5-2 Wednesday.
Dante Hannoun led the way with 1 goal and 3 assists, Kaid Oliver had a 3 point night with a goal and 2 helpers, and Brandon Cutler struck once and added an assist. Singles came from D-Jay Jerome and Tanner Sidaway, the local's first in Royal blue.
Victoria out shot Swift 35-12, and Brock Gould earn the win in his WHL debut. Isaac Poulter suffered the loss with 30 saves.
Head Coach Dan Price post game media scrum:
The Royals won the special teams game, with the power play striking twice on seven chances, and locking down all 4 Bronco's man advantages.
Victoria led 3-1 after 20 minutes, 4-2 after 40 before notching the lone goal of the third.
The Royals who were again ranked 4th in the CHL Top 10 earlier in the day, improve to 8-1 on the season and will host the Rockets Friday and Saturday night.
Marlon Martens
Notes:
Shots Against: In tonight's game the Royals set the franchise record for fewest shots against in a contest as Swift Current registered 12 shots on goal. The previous record was 13, which occurred on two occasions (March 7, 2012 at Everett & October 22, 2016 vs. Everett).
Facing the Champs: Tonight, Victoria took on the defending WHL Champion Swift Current Broncos. Since the 2013-14 season the Royals have now faced-off against the various defending WHL Champions 21 times, and over that span have earned a record of 15-5-1-0.
Putting Up Points: Royals' forward Dante Hannoun recorded four points (1g-3a) in tonight's game. Hannoun's career high for most points in a game is five (2g-3a), which took place the, last time Swift Current played in Victoria, on October, 21, 2016.
First of Many: In tonight's game, Victoria rookie goaltender Brock Gould played in his first career WHL contest and record his first career win. The 2001-born netminder was picked in the eighth round, 170th overall, in the 2016 WHL Bantam Draft.
Former Teammates: The Royals' Brock Gould and the Broncos' Isaac Poulter, the starting goaltenders in tonight's game, were teammates last season. The two netminders played for the Winnipeg, MB based Rink Hockey Academy in the Canadian Sport School Hockey League.
Local Product: Swift Current forward Quinton Waitzner hails from Victoria, BC. The 6-4, 203 lb centre played his minor hockey for Victoria Racquet Club before he spent a season each with the Shawnigan Lake Hockey Academy (2015-16) and the Saanich Braves Junior B (2016-17).
On the Board: Broncos' rookie import forward Joona Kiviniemi scored his first career WHL goal tonight. The product of Oulu, Finland was selected in the first round, 59th overall, in the 2018 CHL Import Draft.
Up Next: Victoria's six-game homestand continues this weekend when they host BC Division rivals the Kelowna Rockets on Friday and Saturday night. Puck drop for both games is scheduled for a 7:05 p.m. Tickets can be purchased in person at the Select Your Tickets box office, over the phone by calling 250-220-7777, or online at www.selectyourtickets.com.
TEXT SCORING SUMMARY
Swift Current Broncos 2 at Victoria Royals 5 – Status: Final
Wednesday, October 17, 2018 – Save-On-Foods Memorial Arena – Victoria, BC
Swift Current 1 1 0 – 2
Victoria 3 1 1 – 5
1st Period-
1, Victoria, Oliver 6 (Hannoun, Walford), 3:37 (PP).
2, Swift Current, Kiviniemi 1 (Patterson, King), 6:58.
3, Victoria, Cutler 4 (Hannoun), 14:09.
4, Victoria, Hannoun 5 (Cutler, Oliver), 19:24 (PP).
Penalties-Patterson Sc (tripping), 2:52; Jarratt Vic (cross checking), 4:56; Sidaway Vic (interference), 15:35; Fyten Sc (tripping), 19:19.
2nd Period-
5, Victoria, Jerome 6 (Oliver, Martynov), 1:20.
6, Swift Current, Blocker 1 (O'Rourke, Nagel), 9:00.
Penalties-Spenst Sc (checking to the head), 2:43; King Sc (high sticking, high sticking), 10:34; Prowse Vic (tripping), 19:04.
3rd Period-
7, Victoria, Sidaway 1 (Hannoun), 10:39.
Penalties-Pynnonen Sc (tripping), 2:24; Sidaway Vic (interference), 5:52; Patterson Sc (cross checking), 17:37.
Shots on Goal-
Swift Current 5-4-3-12.
Victoria 15-9-11-35.
Power Play Opportunities-
Swift Current 0 / 4;
Victoria 2 / 7.
Goalies-Swift Current, Poulter 0-3-0-0 (35 shots-30 saves). Victoria, Gould 1-0-0-0 (12 shots-10 saves).
A-3,201
Referees-Adam Griffiths (36), Sean Raphael (28).
Linesmen-Jordan Browne (90), Riley Friesen (76).