Oliver Overtime Heroics as Royals Run Win Streak to 7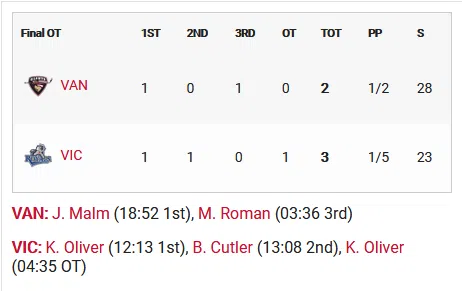 Oct 14, 2018
Marlon Martens
Kaid Oliver scored the overtime winner, and Griffen Outhouse made 26 saves as the Victoria Royals got past the visiting Vancouver Giants 3-2 Saturday night.
The Royals remain the only undefeated team in the WHL, and tied a franchise record that they set a year ago, for best start to the season at 7-0.
Head Coach Dan Price post game interview:
The Giants (7-1-1-0) had their 5 game win streak turn into a 6 game unbeaten in regulation stretch.
Just one point now separates the two clubs atop the Western Conference. Vancouver with 15 points, and Victoria at 14. Both were named in the CHL Top 10, Royals at 4th, and Giants at 7th.
Oliver had a 3 point night with 2 goals and an assist, Brandon Cutler added a single, while D-Jay Jerome had 2 assists.
Victoria never trailed, and Vancouver twice pulled even on goals by Milos Roman and James Malm. Davis Koch added 2 assists.
Both clubs struck once each on the power play.
David Tendeck took the overtime loss, making 20 stops.
The two clubs face again Sunday afternoon at 3pm.
Marlon Martens
Notes:
Strong Start: Both teams have enjoyed strong starts to this season. With their win tonight, Victoria's record improved to 7-0-0-0 to tie last year's franchise mark for best start to a season. Meanwhile, Vancouver hold top spot in the Western Conference with 15 points (7-1-1-0) in their opening nine games.
Renewing Acquaintances: Tonight's match-up with the Giants was the first regular season meeting between the two clubs since Victoria's 4-3 series win in the opening round of last year's WHL Playoffs. Last season, the Royals posted a record of 4-1-0-0 against the Giants on home ice.
Powerplay Goals: With a powerplay marker in tonight's game, the Royals have now scored at least one goal on the man-advantage in six consecut
ive contests. During that span, Victoria has tallied a mark of 7/37=27.0%. Forward Kaid Oliver leads the team in powerplay goals with three.
Familiar Faces: Earlier this season, former Royal, Jared Dmytriw was named the 16th captain in Vancouver Giants' history. The 20-year-old Dmytriw played in 179 career regular season games with Victoria (2014-17) and recorded 50 points (29g-21a). He was selected by the Royals in the fourth round, 83rd overall, in the 2013 WHL Bantam Draft.
Coming Up: The Royals continue their six-game home stand tomorrow afternoon with a re-match against the Vancouver Giants on Marty the Marmot's 13th birthday. Puck drop is scheduled for a 3:05 p.m.  Tickets can be purchased in person at the Select Your Tickets box office, over the phone by calling 250-220-7777, or online at www.selectyourtickets.com.
Skate with the Players: Fans will be able to skate with Royals' players, after tomorrow afternoon's game, via a donation to the Downie Wenjack Fund. Helmets and skates will be available for rent at the Skate Shop, located beside the Royals' Team store at Gate 3, on a first-come-first-served basis.
TEXT SCORING SUMMARY
Vancouver Giants 2 at Victoria Royals 3 (OT) – Status: Final OT
Saturday, October 13, 2018 – Save-On-Foods M
morial Arena – Victoria, BC
Vancouver 1 0 1 0 – 2
Victoria 1 1 0 1 – 3
1st Period-
1, Victoria, Oliver 5 (Fizer, Jerome), 12:13 (PP).
2, Vancouver, Malm 8 (Koch), 18:52.
Penalties-Bulych Van (interference), 10:51; Kannok Leipert Van (roughing), 16:55; Sidaway Vic (roughing), 16:55.
2nd Period-
3, Victoria, Cutler 3 (Jerome, Oliver), 13:08.
Penalties-Prowse Vic (cross checking), 1:39; Hardy Van (tripping), 6:34; Hardy Van (delay of game), 9:57.
3rd Period-
4, Vancouver, Roman 3 (Koch, Dmytriw), 3:36 (PP).
Penalties-Fizer Vic (hooking), 1:49; Dmytriw Van (tripping), 4:37; Bulych Van (interference), 9:51.
OT Period-
5, Victoria, Oliver 6 (Hannoun, Jarratt), 4:35.
Penalties-No Penalties
Shots on Goal-
Vancouver 11-5-11-1-28.
Victoria 7-9-4-3-23.
Power Play Opportunities-
Vancouver 1 / 2;
Victoria 1 / 5.
Goalies-
Vancouver, Tendeck 5-1-1-0 (23 shots-20 saves).
Victoria, Outhouse 7-0-0-0 (28 shots-26 saves).
A-4,963
Referees-Brett Iverson (24), Nick Panter (70).
Linesmen-Jordan Browne (90), Liam Reid (112).