Royals 7 Game Win Streak Snapped By Giants Sunday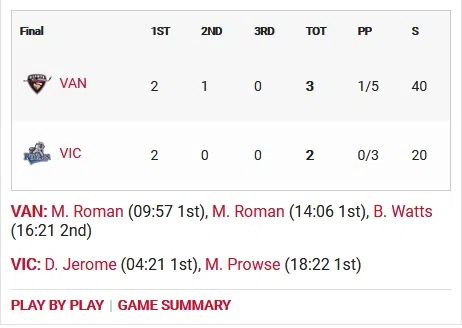 Oct 15, 2018
Marlon Martens
The Victoria Royals had their 7 game winning streak snapped Sunday afternoon, slighted 3-2 by the visiting Vancouver Giants.
Royals Head Coach Dan Price following the loss:
One night earlier Kaid Oliver scored the overtime winner in a 3-2 victory over the same Giants to tie the franchise record for best start to the season.
Victoria remains 2nd in the Western Conference, now 3 back of Vancouver.
Sunday the Royals opened the scoring courtesy of D-Jay Jerome, but a pair by Milos Roman put the Giants ahead. Defenseman Mithchell Prowse wired a shot top corner before the period was out to draw even at 2-2.
In the middle frame Giants forward Brayden Watts got the lone tally for the eventual game winner.
Vancouver doubled Victoria in shots 40-20, with David Tendeck earning the win, and Griffen Outhouse suffering his first defeat of the season, making 37 savings and earning 3rd star honours.
Up next the Royals entertain the defending WHL champions, the Swift Current Broncos Wednesday night.
Marlon Martens
Royals Notes:
Stingy Defence: So far this season, the Royals have surrendered the fewest goals in the WHL. In eight games, Victoria has allowed 16 goals against.
Personal Best: Royals' forward Kaid Oliver has recorded nine points (6g-3a) in eight games this season. His six goals have matched his career high which he achieved last season when he tallied 25 points (6g-19a) in 64 games.
Outstanding Outhouse: Royals' goaltender Griffen Outhouse currently sits at 94 career regular season wins. Outhouse is now six wins away from becoming the first goaltender in Victoria/Chilliwack franchise history to record 100 career regular season victories.
Coming Up: The Royals continue their six-game home stand Wednesday evening against the defending WHL Champion Swift Current Broncos. Puck drop is scheduled for a 7:05 p.m. Tickets can be purchased in person at the Select Your Tickets box office, over the phone by calling 250-220-7777, or online at www.selectyourtickets.com.
TEXT SCORING SUMMARY
Vancouver Giants 3 at Victoria Royals 2 – Status: Final
Sunday, October 14, 2018 – Save-On-Foods Memorial Arena – Victoria, BC
Vancouver 2 1 0 – 3
Victoria 2 0 0 – 2
1st Period-
1, Victoria, Jerome 4 (Martynov, Walford), 4:21.
2, Vancouver, Roman 4 (Koch, Malm), 9:57 (PP).
3, Vancouver, Roman 5 (Watts, Sourdif), 14:06.
4, Victoria, Prowse 1   18:22.
Penalties-Aquilon Vic (tripping), 9:38; Martynov Vic (tripping), 19:39.
2nd Period-
5, Vancouver, Watts 3 (Sourdif, Byram), 16:21.
Penalties-Schultz Vic (roughing), 6:38; Plouffe Van (high sticking), 7:15; Byram Van (hooking), 10:40; Walford Vic (cross checking), 18:27.
3rd Period-
No Scoring.
Penalties-Schultz Vic (interference), 0:49; Dmytriw Van (tripping), 17:56.
Shots on Goal-
Vancouver 16-14-10-40.
Victoria 6-6-8-20.
Power Play Opportunities-
Vancouver 1 / 5;
Victoria 0 / 3.
Goalies-
Vancouver, Tendeck 6-1-1-0 (20 shots-18 saves).
Victoria, Outhouse 7-1-0-0 (40 shots-37 saves).
A-4,359
Referees-Kevin Bennett (29), Steve Papp (17).
Linesmen-Cole Cooke (130), Chris Van Deventer (145).