Royals Double Blazer 6-3, Sweep 2 Game Set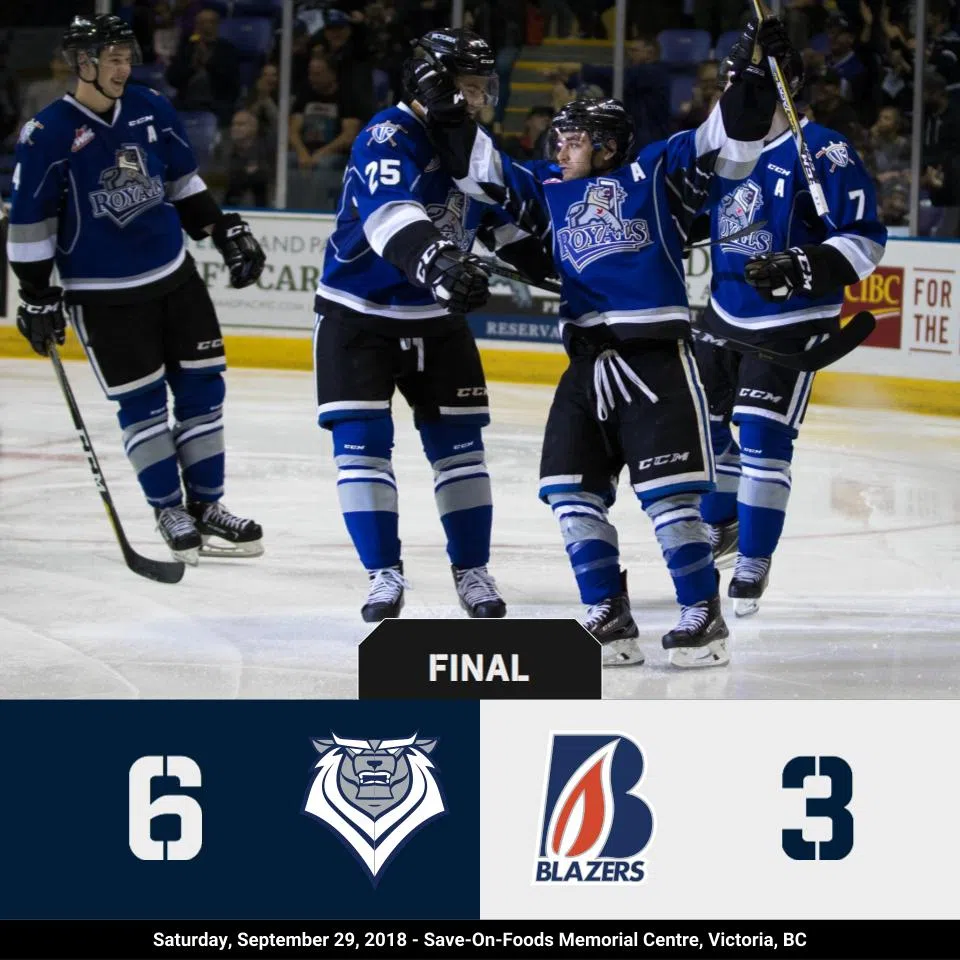 Sep 30, 2018
Marlon Martens
The Victoria Royals scored the last 5 goals to overcome a 2 goal deficit and double the visiting Kamloops Blazers 6-3 Saturday night.
The Royals swept the Blazers (2-2) in the two game set, and improve to 4-0, leading the BC Division early in the season.
Royals Head Coach Post Game Interview:
Victoria got balanced scoring, using goals from 6 different skaters.
Dino Kambietz and D-Jay Jerome had a goal and assist each. Singles came from Phillip Schultz, Tarun Fizer, Dante Hannoun and Brandon Cutler. Igor Martynov had 3 assists, while Ralph Jarratt notched a pair of helpers.
Griffen Outhouse (4-0) again earned the win stopping 35 of 38, while Dylan Ferguson took a second consecutive loss allowing 5 goals on 33 attempts.
Kamloops had built up an early 2-0 lead on goals by Brodi Stuart on Jermaine Loewen, before Cutler got the home side on board.
In the second, Blazers forward Zane Franklin struck with the man advantage to re-take the 2 goal cushion, however Kambietz one timer on the power play got the Royals to within one, 3-2.  Jerome banged home a rebound to even the score heading to the third.
In the final frame, Victoria struck twice within a minute early, both goals coming 4 on 4 courtesy of Hannoun and Schultz to take their first lead of the game. Tarun Fizer added the insurance marker into an empty net.
Kamloops went 2 for 4 on the power play, ending Victoria's perfect penalty kill streak at 15.
The Royals were 1 for 5 on the man advantage.
There were two fights on the same shift late in the second period as Tyler Lees and Joonas Sillanpaa squared off, right after Tanner Sidaway and Nolan Kneen dropped the mitts, all as a result of a check from behind by Franklin.
Victoria now heads out on the road to play in Kelowna (1-4) next Friday and back against Kamloops on Saturday.
Marlon Martens
Notes:
Spreading the Wealth: In tonight's game, 11 different Royals recorded at least one point. After the first four games of the season, 15 of the 22 players on the roster have registered a point. Victoria's leading scorer through four games is 20-year-old defenceman Ralph Jarratt, who has collected a goal and five assists.
Between the Pipes: Through the first four games of the regular season, Royals' netminder Griffen Outhouse sits in the league's top five in three goaltender categories. Outhouse is first in wins (4), second in save percentage (0.947) and fifth in goals against average.
Climbing The Charts: In tonight's victory against the Blazers, forward Dante Hannoun tallied a goal to put him at 216 career regular season points with the franchise. He currently sits seventh all-time in franchise scoring and is one point away from tying Ryan Howse in sixth spot. In his WHL career, Hannoun has recorded a total of 80 goals and 136 assists in 262 games played.
TEXT SCORING SUMMARY
Kamloops Blazers 3 at Victoria Royals 6 – Status: Final
Saturday, September 29, 2018 – Save-On-Foods Memorial Arena – Victoria, BC
Kamloops 2 1 0 – 3
Victoria 1 2 3 – 6
1st Period-
1, Kamloops, Stuart 3 (Kneen, Centazzo), 5:22 (PP).
2, Kamloops, Loewen 2 (Zazula, Appelt), 9:22.
3, Victoria, Cutler 2 (Oliver, Jerome), 17:28.
Penalties-Prowse Vic (holding), 4:49; Onyebuchi Kam (hooking), 10:45; Franklin Kam (interference), 15:22; Smith Kam (inter. on goaltender), 19:52.
2nd Period-
4, Kamloops, Franklin 3 (Kneen, Centazzo), 2:24 (PP).
5, Victoria, Kambeitz 2 (Jarratt, Martynov), 6:12 (PP).
6, Victoria, Jerome 2 (Smith, Martynov), 11:39.
Penalties-Cutler Vic (hooking), 1:58; Franklin Kam (tripping), 4:56; Prowse Vic (cross checking), 8:23; Franklin Kam (checking from behind), 17:05; Kneen Kam (major-fighting), 17:05; Sillanpää Kam (major-fighting, game misconduct), 17:05; Lees Vic (major-fighting, game misconduct), 17:05; Sidaway Vic (major-fighting), 17:05.
3rd Period-
7, Victoria, Hannoun 1 (Kambeitz, Walford), 1:08.
8, Victoria, Schultz 2 (Jarratt, Martynov), 1:58.
9, Victoria, Fizer 1   19:12 (EN).
Penalties-Ferguson Kam (roughing), 0:13; Oliver Vic (slashing), 0:13; Oliver Vic (slashing), 4:18.
Shots on Goal-
Kamloops 10-14-14-38.
Victoria 11-11-12-34.
Power Play Opportunities-
Kamloops 2 / 4;
Victoria 1 / 5.
Goalies-
Kamloops, Ferguson 2-2-0-0 (33 shots-28 saves).
Victoria, Outhouse 4-0-0-0 (38 shots-35 saves).
A-4,808
Referees-Duncan Brow (19), Troy Paterson (60).
Linesmen-Chris Anninos, Bradley Parker (129).