Royals Edge Blazers 3-2 Friday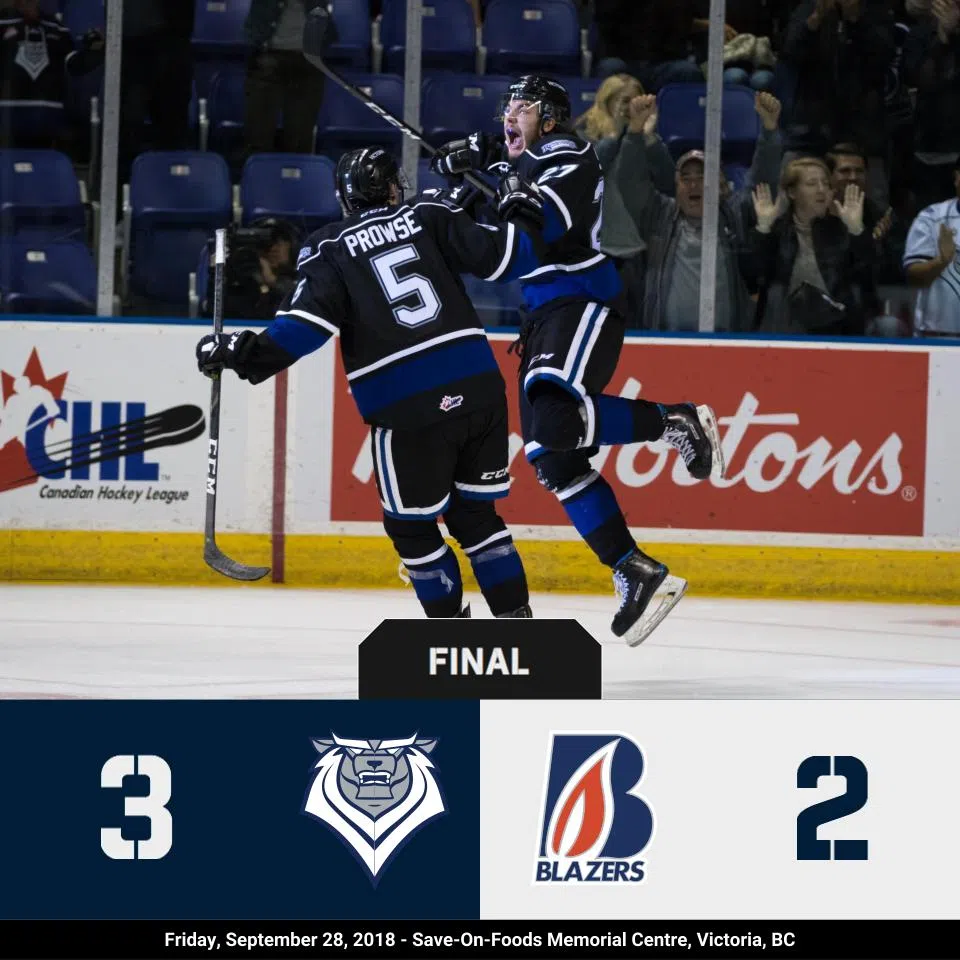 Sep 29, 2018
Marlon Martens
Phillips Schultz scored the game winner with a minute to go, and Griffen Outhouse made 36 saves as the Victoria Royals edged the visiting Kamloops Blazers 3-2 Friday night.
Victoria Head Coach Dan Price Post Game Interview by Zone Intern Andrew Walker:
The Royals led 2-0 in the first on a short handed goal by Dino Kambietz, followed by a power play marker by Igor Martynov.
The Blazers Kobe Mohr struck with less than 2 seconds to go in the first to cut the lead 2-1.
Kyrell Sopotyk banged in a rebound for the only goal of the second period to draw the visitors even at 2-2.
Outhouse robbed Orrin Centazzo with the glove in the third, just one of his many big saves, while at the other end Dylan Ferguson also stacked up big time stops but ultimately taking the loss with 35 saves. Outhouse was named 1st star, while Ferguson star #2.
For Schultz, the Danish import it was his first goal and point in the WHL. Dante Hannoun chipped in with a pair of helpers, while Blazer defender and Duncan native Nolan Kneed added 2 assists as well.
Highlights – bit.ly/2NRvhHi
Victoria improves to 3-0 on the season, while Kamloops falls to 2-1.
The rubber match goes Saturday night on the Island 7:05pm.
– Marlon Martens
Notes:
Back in Black: Royals' defenceman Scott Walford played in his first game of the regular season tonight. The 19-year-old blueliner returned to Victoria earlier this week after he participated in the Montreal Canadiens Training Camp. Walford was selected by Montreal in the third round, 68th overall, in the 2017 NHL Entry Draft.
PK Magic: For the second consecutive game, the Royals opened the scoring with a shorthanded marker. Both of these goals were scored by Kaid Oliver, the first two shorhanded tallies of his WHL career.
Island Connection: There are four players on the Kamloops Blazers who call Vancouver Island home. These players are goaltenders Dylan Ferguson (Lantzville) & Dylan Grand (Victoria) along with defencemen Nolan Kneen (Nanaimo) and Sean Strange (Saanich).
Up Next: Victoria wraps up their four game homestand tomorrow night against the Kamloops Blazers . Puck drop is at 7:05 p.m. Tickets can be purchased in person at the Select Your Tickets box office, over the phone by calling 250-220-7777, or online at www.selectyourtickets.com.
TEXT SCORING SUMMARY
Kamloops Blazers 2 at Victoria Royals 3 – Status: Final
Friday, September 28, 2018 – Save-On-Foods Memorial Arena – Victoria, BC
Kamloops 1 1 0 – 2
Victoria 2 0 1 – 3
1st Period-
1, Victoria, Oliver 2   5:21 (SH).
2, Victoria, Martynov 1 (Hannoun, Jarratt), 17:16 (PP).
3, Kamloops, Mohr 1 (Kneen, Franklin), 19:58.
Penalties-served by Martynov Vic (too many men), 4:37; Smith Kam (high sticking, high sticking), 12:56; Denomie Kam (high sticking), 16:20.
2nd Period-
4, Kamloops, Sopotyk 1 (Kneen, Centazzo), 11:18.
Penalties-Schmiemann Kam (delay of game), 15:52; Kneen Kam (closing hand on puck), 16:32; Walford Vic (interference), 17:13.
3rd Period-
5, Victoria, Schultz 1 (Hannoun, Jerome), 18:55.
Penalties-Martynov Vic (tripping), 1:54; Appelt Kam (checking to the head), 4:53; Smith Kam (holding), 8:00; Smith Vic (embellishment), 8:00; Hannoun Vic (slashing), 8:40.
Shots on Goal-
Kamloops 9-13-16-38.
Victoria 17-11-10-38.
Power Play Opportunities-
Kamloops 0 / 4;
Victoria 1 / 6.
Goalies-
Kamloops, Ferguson 2-1-0-0 (38 shots-35 saves).
Victoria, Outhouse 3-0-0-0 (38 shots-36 saves).
A-4,611
Referees-Bryan Bourdon (45), Brett Iverson (24).
Linesmen-Riley Friesen (76), Chris Van Deventer (145).