Intra-Squad Game Recap: Blue 4 – White 3 Shoot Out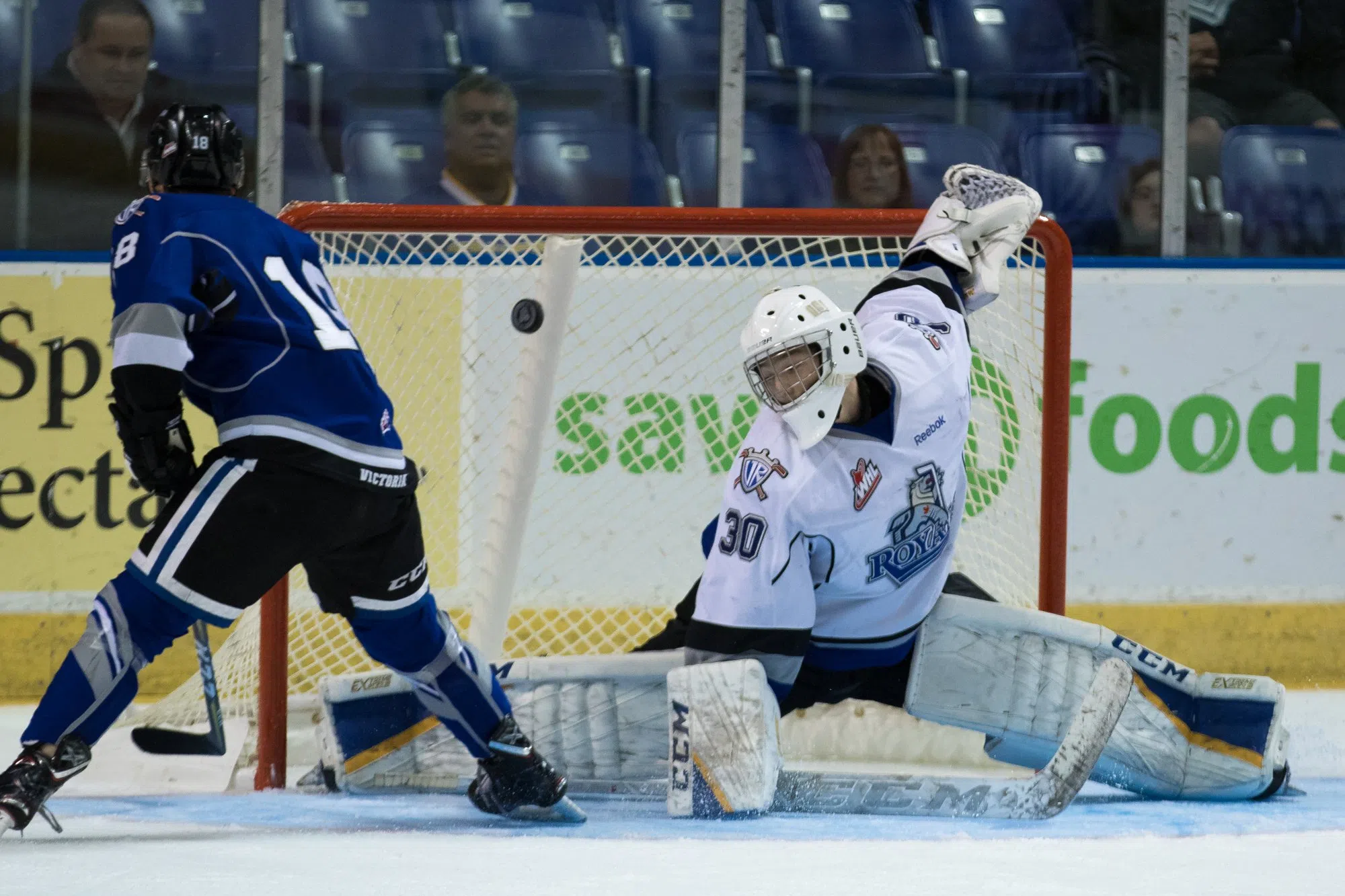 Aug 30, 2018
Marlon Martens
Sophmore forward Tarun Fizer scored the only goal of the 3 round shoot out to lift Team Blue past Team White 4-3 in the Victoria Royals annual Intra-squad game Wednesday night at the SOFMC.
Hear from 17 yr old Fizer post game:
Danish forward Phillip Schultz had 2 assists for Team White, while goals came from Logan Valkama, Kaid Oliver and Tyus Gent.
Team Blue earned singles from Blake Bentham, D-Jay Jerome and Riley Zimmeramn.
Between the pipes Team Blue split the duties between Brock Gould (16 saves on 19 shots), and incumbent netminder Dean McNabb (14 for 14).
On Team White netminder Connor Martin took the shoot out loss, while making 6 saves on 8 shots in close to 20 minutes of work. Keegan Maddocks stopped 6 of 7 in one period while Joel Grzybowski went 10 for 10 in his 20 minutes of action.
Post game interview with Kaid Oliver:
Post Game Interview with D-Jay Jerome:
Not dressed for the game:
Dante Hannoun '98
Ralph Jarratt '98
Tanner Kaspick '98
Griffen Outhouse '98
Matthew Phillips '98
Lane Zablocki '98
Igor Martynov '99
Brayden Gorda '99
Scott Walford '99
Mitchell Prowse '00
Matthew Smith '00
Roster: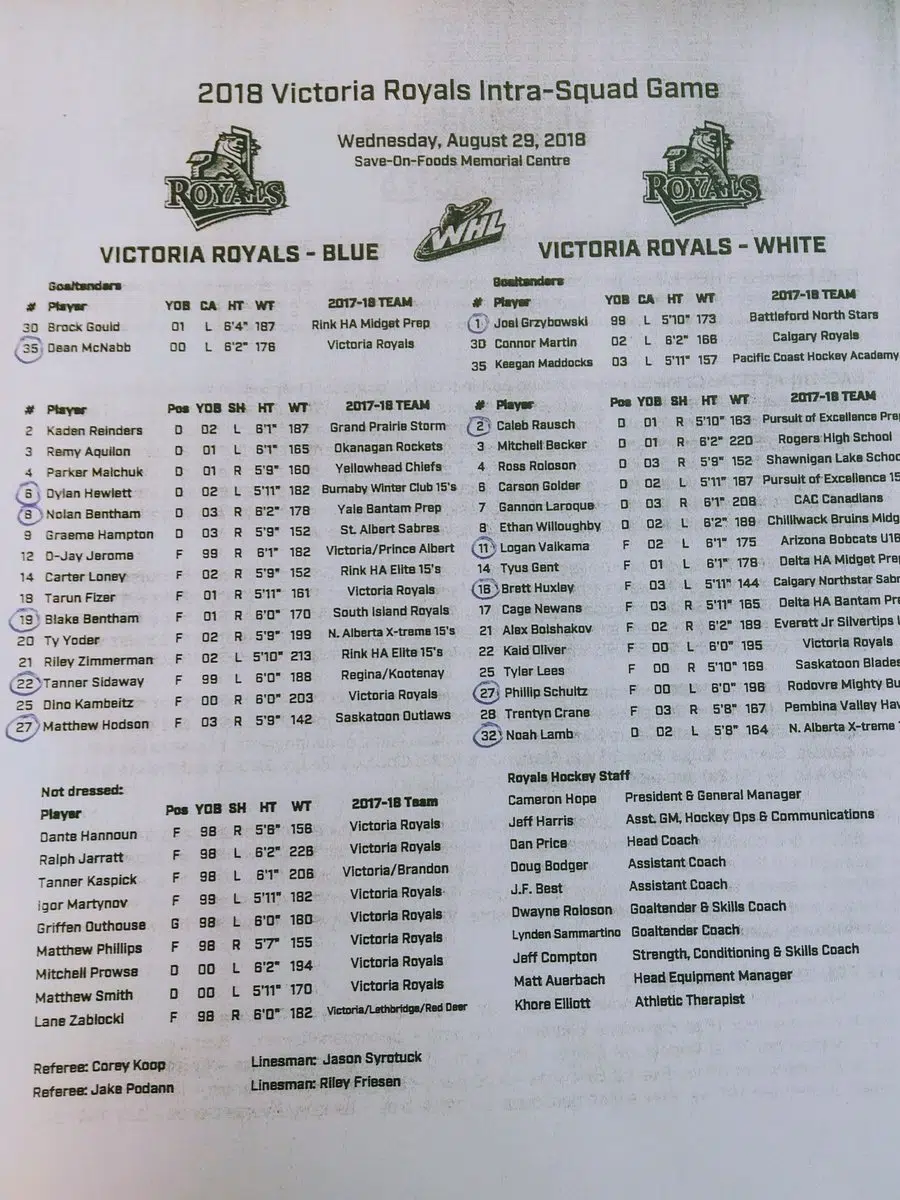 Up next the club will take a whittled down roster on the road to Kelowna Friday and Kamloops Saturday.
2018 Pre-Season Schedule:
Friday, August 31st at Kelowna Rockets – 7:05 p.m. – Prospera Place –  Kelowna, BC
Saturday, September 1st at Kamloops Blazers – 7:00 p.m. – Sandman Centre –  Kamloops, BC
Friday, September 7th at Vancouver Giants – 7:00 p.m. – Langley Events Centre – Langley, BC
Saturday, September 8th vs. Everett Silvertips – 3:00 p.m. – Langley Events Centre – Langley, BC
Sunday, September 9th  vs. Prince George Cougars – 12:00 pm – Langley Events Centre – Langley, BC
Royals Notes:
Around the World: Out of the 36 players who competed in the Intra-Squad game, BC produced the most skaters in the contest with 13, while Alberta had the second-most at nine. Manitoba and Saskatchewan were both represented by four players. There were five American skaters, two from Colorado and Washington and one from Minnesota. Victoria's newly-added import Phillip Schultz was the only import in the game and he hails from Rodovre, Denmark.
Dotted Line: The Intra-Squad game featured 5 newly signed players. Victoria locked up forwards Phillip Schultz, Matthew Hodson and Trentyn Crane along with defenceman Carson Golder and goaltender Keegan Maddocks.
Hodson (Round 3), Crane (Round 5) and Maddocks (Round 8), were all selected in the 2018 WHL Bantam Draft this spring.
Schultz was picked 38th overall in the 2018 CHL Import Draft, while Golder was listed by the club this summer.