A 'YUNG' talent with the sound of seasoned rock heroes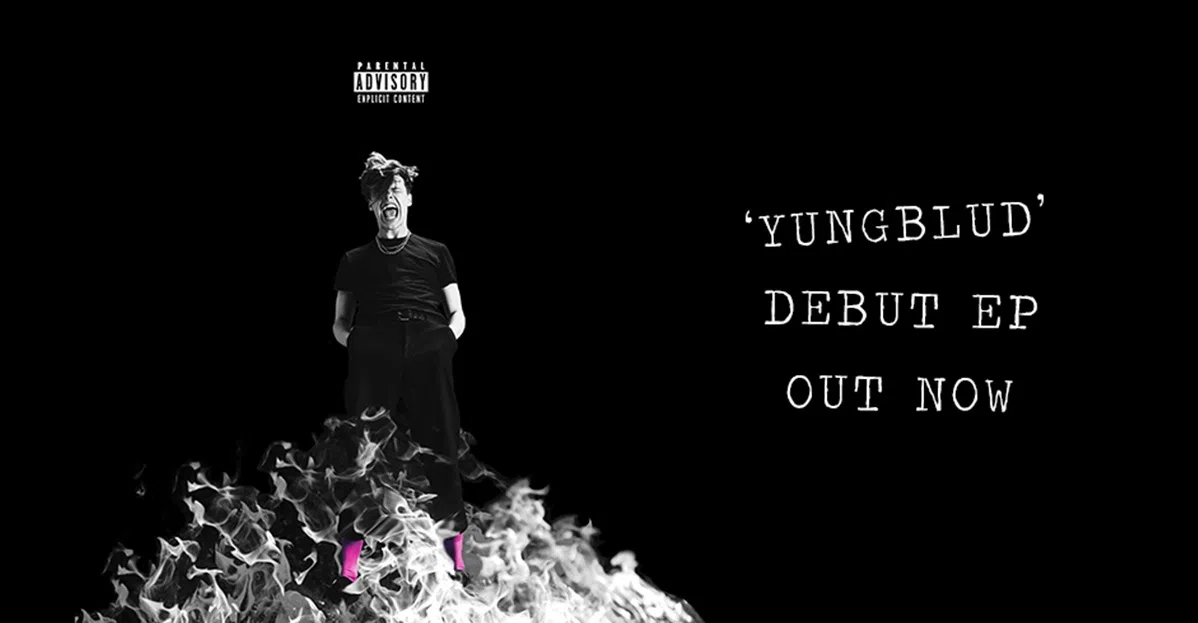 Apr 26, 2018
Bryan Boitano
Last week, I got the opportunity to travel to Toronto to check out a showcase put on by Universal Music Canada, who were really anxious for me to check out 20-year-old, Dominic Harrison (a.k.a. YUNGBLUD). I do have pictures from the trip as a highlighted story on my Instagram but it isn't the most useful insta-story if you're wanting to learn more about the artist.
I was originally planning on putting together a blog post about YUNGBLUD but instead, I've decided to share my notes/thoughts that I e-mailed to Universal a few days after my trip. I think it best captures how I felt about Dominic and the showcase he put on for us at The Drake on Thursday, April 19th.
[I'll skip past the usual initial e-mail pleasantries and get right to the meat of the message, haha!]
[…] This was my first "showcase trip" (there have been a few that have been offered to me before by other labels but this is the first that my schedule has allowed me to attend) and I want to start by being 100% honest in saying that the mini-cynic in me often thought that these showcase trips are a way of buttering us programmers up so that we have a great time/experience in another city, feel like rockstars with our paid-for flights and hotel rooms and then come back home with a post-trip glow that ultimately leads to us gushing about the artist. Haha! And I had to preface that in my first music meeting back because fellow cynics might think the same and take anything I say about YUNGBLUD with a grain of salt.
That all being said, I was genuinely impressed with YUNGBLUD and I'm glad I got to see him perform and learn more about him. He's got this incredible delivery that (in some songs) is reminiscent of the Arctic Monkeys (with an insane amount of energy). Other moments in the show had me thinking about Rage Against The Machine in terms of the rad guitar work and protest lyrics in a lot of the songs. And have I mentioned his energy yet??? lol! Well, it's worth mentioning twice. If fans gravitate toward his music on the radio, spotify, etc. they will certainly be rewarded when they see him play live. While we're making comparisons to other artists, I'll throw one more out at you and this is with regards to his stage presence and the way he moves during a performance…I very much see a younger Matt Shultz (of Cage The Elephant) up on stage. He's certainly not afraid to explore the space, jump around and get himself tangled up in mic cable and it's a testament to someone who loves being on stage and playing music in a live setting! My favourite moment was when he kissed his guitarist – as if he was saying, "I fucking LOVE that we're up here right now!"
We featured YUNGBLUD's "I Love You, Will You Marry Me?" before the showcase and, I'll be honest, there seemed to be a bit of an uphill battle to get a few of my announcers on board at first (likely even with the name, alone). I think the first reaction I got from an on-air jock was "oh man, ANOTHER band is calling themselves 'young blood'??" (there already exists a very talented Canadian band who goes by the name, Youngblood). That said, they're sonically very different-sounding artists and both deserve praise for having a pretty kick-ass repertoire. There wasn't a lot of feedback on "I Love You, Will You Marry Me?", initially, but the feedback we did receive was mostly positive. I do think it deserves another kick at the can and I hope people really love it.
My personal opinion on the single: I like it, but I don't think it's my favourite on the EP. I tend to gravitate towards "King Charles" a bit more, but that may be the hip hop fan in me. Haha! It's got the musical feel of a hip hop song (the drums alone sound like a breakbeat) and lyrics that I can easily hear Chuck D rapping. Musically, my biggest takeaway from the show was his song, "Polygraph Eyes". I ended up listening to that one a lot on the plane ride home. It has such a strong lyrical message with an accessible delivery reminiscent of Twenty One Pilots' "Stressed Out" (sorry for all these comparisons, btw. I know that can often be annoying to an artist…just know that I mean these all to be complementary).
I hope everything I wrote helps put things into perspective for your meeting. I may even forward this e-mail to my jocks to have a read because this is the most organized my thoughts will ever be on this artist! Haha!! Thanks again for a great time.
In case you missed the Inbox feature or if you're trying to remember what the single sounds like, check it out below:
If you get a chance, I highly recommend you check out the rest of his debut EP. I think it's a gooder! –Boitano