Royals Locker Room Clean-Out Day Interviews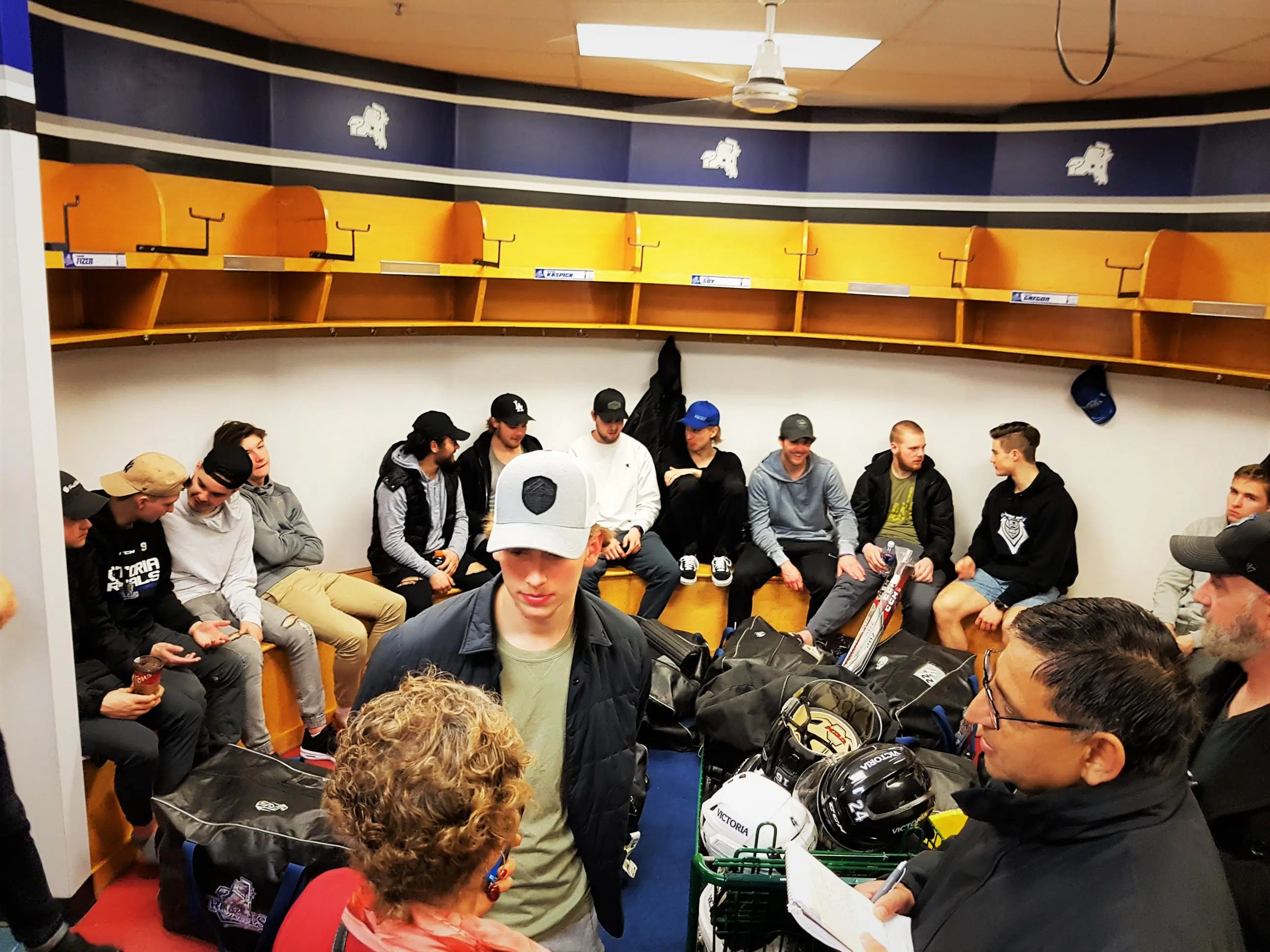 Apr 14, 2018
Marlon Martens
Netminder Griffen Outhouse is interviewed by the media in the Royals dressing room.
Friday was locker room clean-out day for the Victoria Royals and many of the team personnel are reflecting on a season that just ended in Tri-City.
The Royals were swept by the Americans in the second round of the WHL playoffs.
Head coach Dan Price says the team was running on empty. "The gas tank was running a little low because of how much effort everyone put into it. Everyone that played in those series put so much into it. I am extremely proud of the play of all the players that did play."
Audio Dan Price:
The Royals had quite a few key pieces of their lineup like Tanner Kaspick, Jeff DeWit, Scott Walford and Tyler Soy. Price says their focus during the two series were not on the players out of the lineup – but who was in. "Our guys who were in, really felt that right to the end we had a chance to get a win in the series."
Audio Tanner Kaspick:
GM Cam Hope also reflected on the disappointing end. "I thought that we had a team that really were able to do something special and we were really de-fanged there at the end and weren't able to get up over the hill."
The club graduates Chaz Reddekopp (LA), Tyler Soy (ANH), and Kade Jensen.
Audio Chaz Reddekopp (by Lisa Lynam)
"The 20-year-olds will be leaving here in a couple days," says Hope. "Kade Jensen has been a great leader since he's been here. Chaz Reddekopp and Tyler Soy have been here since they were 15 and these are tough days."
Audio Cam Hope:
Graduating forward Tyler Soy only got to play in 1 playoff game due to injury, but set many franchise career records including games played, goals, assists and points.
Audio Tyler Soy:
With 10 '98 born players, turn over is expected as the Royals can only return 3 next season.
Captain Matthew Phillips (CGY) Tanner Kaspick (STL) and Noah Gregor (SJ) all have signed NHL contracts and can now turn pro.  Remaining '98's include forwards Dante Hannoun, Braydon Buziak, Jeff DeWit, Lane Zablocki, defenseman Jared Freadrich & Ralph Jarratt and netminder Griffen Outhouse.
Audio Griffen Outhouse:
Audio Matthew Phillips part 1
Audio Matthew Phillips part 2 (questions by Lisa Lynam)