Leah Fay Calls out Audience Member at July Talk Show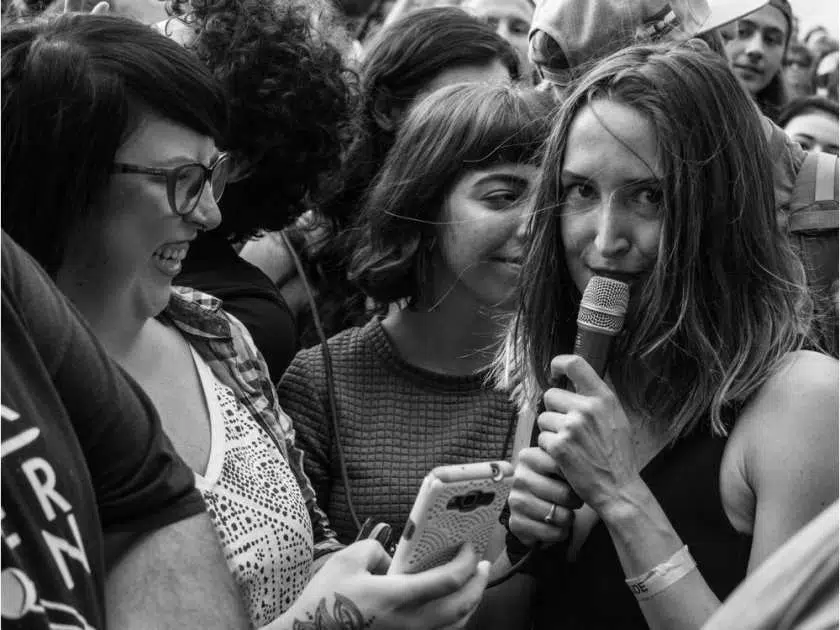 July Talk played a show in Buffalo, New York as part of their 4 month long tour to celebrate their release of the new album, Touch. During an emotional performance, they were interrupted by a man shouting "Show us your tits!". If you know anything about Leah Fay and the band July Talk, you know that comment wasn't going to fly by without being addressed. They stand up for what is right.
Here is the moment captured in a Twitter post by the band.
If you intend to make ANYONE feel unsafe, don't come. If we can't treat each other w/ care + decency at shows, we're fucked everywhere else. pic.twitter.com/FNc8iRtFVe

— July Talk (@julytalk) December 19, 2016
Leah also addressed the incident in a note on her personal twitter.
Here are some words re: the man who yelled "SHOW US YOUR TITS" at me during our show last night. pic.twitter.com/imahuL5DJQ

— Leah Fay (@leah_fayy) December 17, 2016
This isn't the first time an out-of-line audience member has interrupted a July Talk performance. During July Talk's show at Rock The Shores 2016, she had climbed the crowd's fence and was grabbed by a concertgoer. Leah chimed back with "You do not touch my butt without consent!". The entire festival went silent, then erupted in cheers. I am damn proud that Leah Fay speaks up against negative actions/attitudes toward women and I am damn proud we play July Talk in the Zone!
-JWest