David Bowie's final recordings will be released on a new album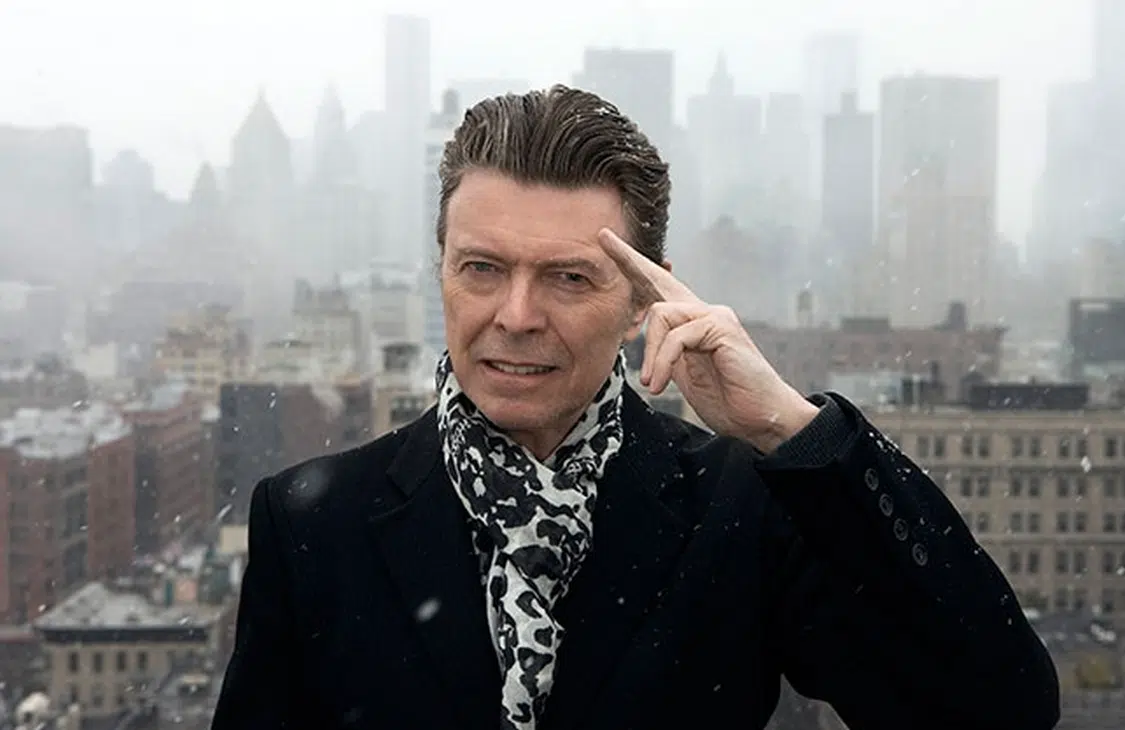 David Bowie's final studio recordings will be featured on the Lazarus musical album.
The musical opened in New York last year and is based on David Bowie's film The Man Who Fell To Earth. The album will have the cast's recordings of Bowie's songs as well as three of his unreleased studio tracks ('No Plan', 'Killing A Little Time' and 'When I Met You').
The work will be released as a 2 CD/3 LP album on October 21st.
lazarus
CD 1:
1. Hello Mary Lou (Goodbye Heart) – Ricky Nelson
2. Lazarus – Michael C. Hall & Original New York Cast of Lazarus
3. It's No Game – Michael C. Hall, Lynn Craig & Original New York Cast of Lazarus
4. This Is Not America – Sophia Anne Caruso & Original New York Cast of Lazarus
5. The Man Who Sold The World – Charlie Pollack
6. No Plan – Sophia Anne Caruso
7. Love Is Lost – Michael Esper & Original New York Cast of Lazarus
8. Changes – Cristin Milioti & Original New York Cast of Lazarus
9. Where Are We Now – Michael C. Hall & Original New York Cast of Lazarus
10. Absolute Beginners – Michael C. Hall, Cristin Milioti, Michael Esper, Sophia Anne Caruso, Krystina Alabado & Original New York Cast of Lazarus
11. Dirty Boys – Michael Esper
12. Killing A Little Time – Michael C. Hall
13. Life On Mars – Sophia Anne Caruso
14. All The Young Dudes – Nicholas Christopher, Lynn Craig, Michael Esper, Sophia Anne Caruso & Original New York Cast of Lazarus
15. Sound And Vision – David Bowie
16. Always Crashing in the Same Car – Cristin Militia
17. Valentine's Day – Michael Esper & Original New York Cast of Lazarus
18. When I Met You – Michael C. Hall & Krystina Alabama
19. Heroes – 4:43 – Michael C. Hall, Sophia Anne Caruso & Original New York Cast of Lazarus
CD 2:
1. Lazarus – David Bowie
2. No Plan – David Bowie
3. Killing A Little Time – David Bowie
4. When I Met You – David Bowie
LP 1 Side A:
1. Hello Mary Lou (Goodbye Heart) – Ricky Nelson
2. Lazarus – Michael C. Hall & Original New York Cast of Lazarus
3. It's No Game – Michael C. Hall, Lynn Craig & Original New York Cast of Lazarus
4. This Is Not America – Sophia Anne Caruso & Original New York Cast of Lazarus
5. The Man Who Sold the World – Charlie Pollack
LP 1 Side B:
1. No Plan – Sophia Anne Caruso
2. Love Is Lost – Michael Esper & Original New York Cast of Lazarus
3. Changes – Cristin Milioti & Original New York Cast of Lazarus
4. Where Are We Now? – Michael C. Hall & Original New York Cast of Lazarus
LP 2 Side C:
1. Absolute Beginners – Michael C. Hall, Cristin Milioti, Michael Esper, Sophia Anne Caruso, Krystina Alabado & Original New York Cast of Lazarus
2. Dirty Boys – Michael Esper
3. Killing a Little Time – Michael C. Hall
4. Life On Mars? – Sophia Anne Caruso
5. All the Young Dudes – Nicholas Christopher, Lynn Craig, Michael Esper, Sophia Anne Caruso & Original New York Cast of Lazarus
LP 2 Side D:
1. Sound and Vision – David Bowie
2. Always Crashing in the Same Car – Cristin Militia
3. Valentine's Day – Michael Esper & Original New York Cast of Lazarus
4. When I Met You – Michael C. Hall & Krystina Alabama
5. Heroes – Michael C. Hall, Sophia Anne Caruso & Original New York Cast of Lazarus
LP 3 Side E (one-sided):
1. Lazarus – David Bowie
2. No Plan – David Bowie
3. Killing a Little Time – David Bowie
4. When I Met You – David Bowie
Read more at http://www.nme.com/news/david-bowie/96355#VSmROhqdpxuIueqh.99
-JennyWest