Walking Dead-inspired Acorn and Beet Cookie Recipe
Mar 07, 2016
Bryan Capistrano
Yes, we're talking about the most recent episode of AMC's The Walking Dead, but NO…there will be NO SPOILERS in this article! I guess the only thing I'm spoiling is the fact that Carol bakes cookies out of acorns and beets.
Aside from that was yesterday's episode of The Walking Dead good? Yeah, I thought so. Did I spend a good chunk of the night post-episode on the Walking Dead website, looking for the cookie recipe? ……….maybe.
They didn't have one. So I found the closest one I could (which is a recipe I found online for Beet Almond Cookies). You can replace the almond flour in the recipe with acorn flour and likely have a creation close to Carol's.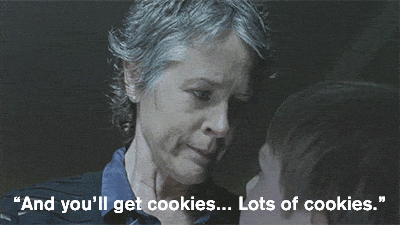 Ingredients
1 cup of acorn flour (you can probably buy some OR make them how Carol likely did)
1/3 cup of date sugar (palm and coconut blossom sugar are good substitutes)
1/4 cup beet puree
1 egg
1 tablespoon of orange juice
1 teaspoon of coconut oil
1/4 teaspoon of ginger powder
1/4 teaspoon of vanilla essence
1/8 teaspoon of salt
Instructions
Peel as much beets as you want to use. Cut into chunks. Steam or cook for about 20 minutes until soft. Let it cool off a little, put it in a blender or food processor and blend into a puree. You might want to add a little water while blending. I used 1/4 cup of water for 800 grams of steamed beets.
Add all cookie ingredients to a food processor and process into a dough. This can also be done with a mixer or just by hand and spoon. You choose.
Preheat oven to 390 degrees Fahrenheit/200 degrees Celsius and line a baking tray with baking paper.
Form 10-12 balls from the dough by using your hands.
Put the balls on the baking tray and make them flat by patting on them with your fingers.
Put the tray in the oven and bake for 15-18 minutes.
---
No, I haven't tried this myself yet. When she made cookies last season, I tried it…they turned out okay. Then our receptionist, Tess, made some and those turned out great! Here's the recipe for that one!
If you try the recipe and need a taste tester…we're open from 8:30am – 5pm (Monday – Friday). Just ask for Boitano!