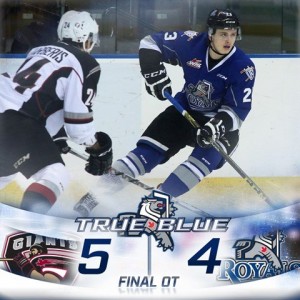 Ty Ronning scored the overtime winner as the visiting Vancouver Giants edged the Victoria Royals 5-4 Saturday night.
"I liked how we showed resiliency, we battled back, put ourselves in a position to win a hockey game – but we didn't." said Head Coach Dave Lowry,
The Royals had clawed back from a 3-1 deficit scoring the next 3 to go ahead 4-3 in the third.
"You spot a team 2 goals, it puts you behind the 8 ball…" added Lowry,
"I liked our start, I thought we had lots of energy, we created a lot of chances, we were looking for the pretty goals, the perfect play early and it might have cost us…"
Thomas Foster forced overtime with the Giants goaltender pulled.
Royals rookie Eric Florchuk scored the Teddy Bear Toss goal with just over 4 minutes to go in the first.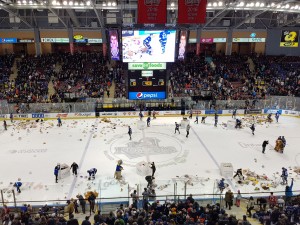 Victoria got a goal and assist from Matthew Phillips and Jack Walker, with a single from Chaz Reddekopp. Ryan Gagnon added 2 assists.
"He's a good goalie and he read my breakaway in overtime perfectly," said Phillips about Kubic. Phillips is 2nd in the league with 24 goals.
Ronning and Foster both had a goal and an assist, while Giants Captain Tyler Benson was in on 4 of the 5 goals with a single and 3 helpers. Vancouver also got goals from Jack Flaman and Jeff Rayman.
Royals' netminder Griffen Outhouse started and stopped 10 of the 13 shots before being replaced in the first by Dylan Myskiw, turning away 24 of 25. Outhouse returned for overtime stopping 3 of 4, after Myskiw was unable to continue.
Giants' Ryan Kubic stopped 38 of the 42 shots for the win.
Victoria was 1 for 5 on the power play, while Vancouver was 2 for 5, including Ronning's overtime marker.
Victoria was without forwards Tyler Soy, Ryan Peckford, Jared Dmytriw and defenceman Scott Walford.
The Royals are 4th in the BC Divisoin, and are now 1-0-1-0 in the 10 game season series, 9 points up on the 5th place Giants.
Victoria is now on their Christmas break, and return to face Prince George for a pair December 27th and 28th.
– Marlon Martens
Vancouver Giants 5 (OT) at Victoria Royals 4 – Status: Final OT
Saturday, December 17, 2016 – Save-On-Foods Memorial Arena – Victoria, BC
Vancouver 3 0 1 1 – 5
Victoria 1 2 1 0 – 4
1st Period-
1, Vancouver, Flaman 10 (Benson), 9:56.
2, Vancouver, Benson 10 (Barberis, Baer), 13:34 (PP).
3, Victoria, Florchuk 2 (Price, Oliver), 15:57.
4, Vancouver, Rayman 1 (Malm, Ronning), 17:53.
Penalties-Torzsok Van (tripping), 1:46; Prowse Vic (hooking), 12:36; Plouffe Van (roughing), 18:49; Walker Vic (roughing), 18:49; Benson Van (cross checking), 19:25.
2nd Period-
5, Victoria, Reddekopp 5 (Bobylev, Hannoun), 0:54 (PP).
6, Victoria, Phillips 24 (Walker, Gagnon), 19:55.
Penalties-Foster Van (hooking), 2:45; served by Malm Van (too many men), 14:50.
3rd Period-
7, Victoria, Walker 17 (Phillips, Gagnon), 8:44.
8, Vancouver, Foster 8 (Benson, Osipov), 18:42.
Penalties-Rayman Van (holding), 2:15; Phillips Vic (inter. on goaltender), 6:23; Hannoun Vic (delay of game), 12:38; Reddekopp Vic (delay of game), 12:43.
OT Period-
9, Vancouver, Ronning 11 (Benson, Foster), 4:46 (PP).
Penalties-Bobylev Vic (hooking), 4:22.
Shots on Goal-
Vancouver 14-10-14-4-42.
Victoria 15-18-7-2-42.
Power Play Opportunities-
Vancouver 2 / 5;
Victoria 1 / 5.
Goalies-
Vancouver, Kubic 10-14-1-2 (42 shots-38 saves).
Victoria, Outhouse 17-12-3-0 (17 shots-13 saves);
Myskiw 0-3-1-0 (25 shots-24 saves).
A-6,129
Referees-Bryan Bourdon (45), Clayton Hall (42).
Linesmen-Kirk Van Helvoirt (107), Riley Friesen (76).